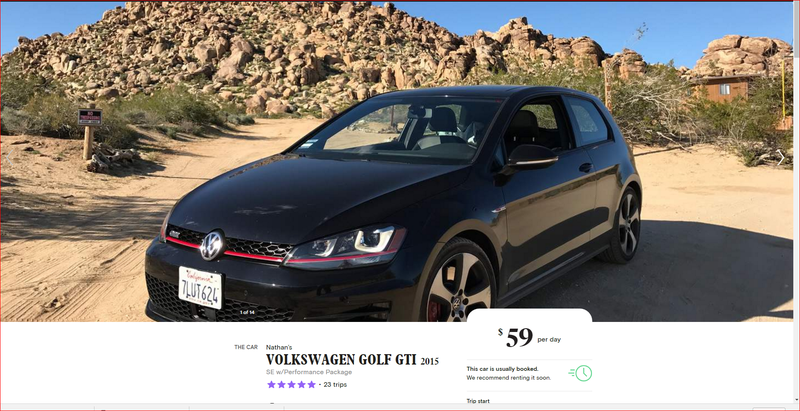 Or as my girlfriend would say, I have booked a mini van for the move. She does not accept anything other than sports cars for my rentals, haha I love her. But for my move from the airport to our new apartment, this will do perfectly. I will be fitting four full size suit cases, my carryon, a backpack, a set of skis in a bag, and my ski boot bag. That plus I have to get the owner home after he picks me up curbside. He was totally cool with cramming all of that in the car so looks like it should be fun. Plus he is a fellow Miata owner so he is my kind of guy!
Originally I was going to rent a Focus RS but this is half the price and probably about the same cargo space. Hopefully that RS stays on Turo though since I definitely still want to rent it in the future. But a GTI is actually on my list of potential daily drivers. I'm sure if I drove the RS, I would just go broke because I would end up going and buying one after!
Its a manual still though so its bound to be tons of fun either way. I've been worried that a GTI would be too boring for a daily driver so I will have to do some canyon runs to test it out (all of the Santa Monica mountains are 5 minutes from my apartment =D ). I'm still thinking the MS3 or WRX will be better options for my tastes. Although of course when I say WRX I mean a 9-2x or a legacy GT if I can find one of those instead.
This GTI will also be useful for the home depot and Ikea and Homegoods runs after move in since we will certainly need some new stuff. Should be a very "adult responsibilities" weekend.