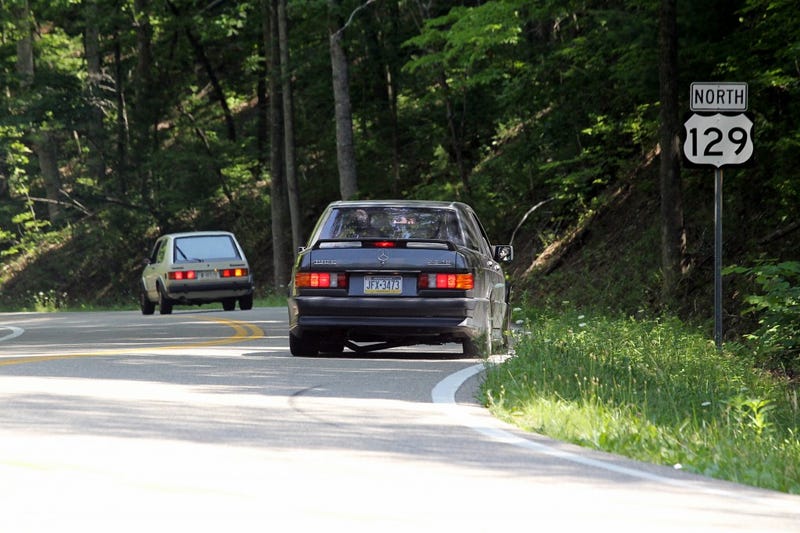 From Taylor, BlythBro #1 on BlythBros.
I initially heard of the 'Tail of the Dragon' through a friend about four years ago and had (regrettably) never done any research or looked for footage from the twisted roads of which he spoke. He had been down there in his stupid-fast Integra and told me that various car clubs usually hold a meet there every year or so. Lucky for me, I had recently purchased a 1987 190E 2.3-16 and was all set to start work in eastern Tennessee for summer of 2013. I knew the car needed some work to get it back to its original Bremen-spec racing form and had invested in a new suspension to start things off. Graham, just four and a half hours away, decided to stop by for the weekend to take me to meet up with a few of his friends at the Dragon.
Graham showed up at my place very late Friday and we noticed that the 190E was running a little louder than normal, as it was fresh off a natural muffler delete. Graham and I were able to pull a rear wheel up onto a sidewalk as we needed a quick solution to get under the body kit. Some 10 gauge wire strung to the rear control arm was good for holding up the remains of the cat-back system. It seemed somewhat stable. The new suspension, Bilsteins and H&R sports all around, had about 6 hours of total driving on them- including none by myself. Graham did the work on my car over at his place as I got to hoon around some nuclear laboratory lots in his GTI for the week. The fabled SLS system had failed/leaked beyond what I was willing to pay to fix and the decision to eschew it in favor of standard struts was not too difficult to justify. For any concerned purists- the SLS components have been living out their days in a very nice bucket in Indiana. Other issues such as a slight oil leak, idle issues, and very worn tires brought my 16v down a bit from its perch as a top-notch driver's car. The 1984 GTI was much more aptly equipped in terms of tires (Dunlop Star Specs), brakes, and- perhaps most importantly- driver ability (an experienced autocrosser and former FSAE driver… whereas I am the type who sometimes dares to lay down some clutchless shifts and is no stranger to hypermiling).
Not knowing at all what to expect for the journey, we set out very early on a beautiful Saturday from my apartment in Oak Ridge towards Knoxville and then veered south on the Alcoa Highway, which enters the Smokies from the north as the famous US-129. I was surprised at how close I had been living to this road without realizing it- the trip was only about an hour and a half at a moderate pace with a stop for a gas/fluids top-off. Traffic was minimal as we starting driving through the foothills at around 7:30. I really didn't know where the 'Dragon' officially began, but as I saw the GTI zip ahead I figured I should probably pay attention to the road instead of the funny town signs surrounding the area (Chilhowee Lake is still my favorite). This is also the moment when I realized I should have probably run a few practice laps of my car's new corners around my apartment before taking it to one of the biggest stages. It was time to stop thinking about vanity plates (how should I spell 'nukular'?) and quickly remember where those German engineers placed 2nd gear on my transmission.
The next 25 minutes or so were more or less pure terror. I remember lots of lefts, and an almost equal number of rights, and not being able to pry my knuckles from the wheel. Luckily only two gears were needed for the majority, and I didn't break the only law of the twisting road: Don't cross the yellow lines. The dogleg transmission was actually coming in handy, and that was neat. Almost every turn required counter-steering as the rear end of my car was essentially resting on castors. Having my hands locked to the steering wheel left me no way to indicate to Graham the duress of my situation, so I just kept driving. I wasn't about to let Graham think I was taking things slowly. Luckily for me, I had played plenty of Forza (realistic) and Need for Speed (not realistic) growing up and had this ability as one of my few driving skills. Traffic still hadn't picked up as I had expected it would on such a famous stretch of pavement, so we were able to continue along at our own spirited pace.
Initially I noticed a lot of noises coming from my car. From all sides. A combination of body roll and a poor wiring job caused the 190e to have just a few too many points of contact as I could hear the front and sides of that fancy body kit scraping with every tight turn as well as what was left of the exhaust dragging underneath. To be fair, the lack-of-muffler sound wasn't all too bad and probably added about 20 mph to what I thought I was doing. It also made people look for whatever demonic machine was producing such noise, which certainly helped out with notifying the photographers along the path that something potentially wicked was on its way around the blind turns.
After surviving the southern trip, we met up with some friends at Deal's Gap in NC and headed back. I noticed that they all had much more powerful/functional/safe rides, and decided to run at the back of the pack to not slow anyone down. My 160-ish hp weren't going to hold up with an S2000, MkIV R32, new 5.0, or B7 S4, especially after I struggled to keep within eyeshot of the 90 hp GTI on the way south. I learned to predict when my car would begin its slides and was able to keep up with the R32 through most of it. We began seeing long lines of other motoring enthusiasts dominated mostly by Harleys and Corvettes. There were also some brave folk making their way down the highway in fully-loaded SUVs, but they were often kind enough to pull over to allow others to keep their groups together.
We allocated some time for car cool-down, then I traded the 2.3-16 to Graham for his GTI for our third run and was surprised at how easily I was able to direct it into turns while keeping the rear end planted. This was a great feeling as I could loosen my grip on the wheel and actually enjoy the drive. It was basically a large go-kart at that point. The steering feedback was also nice, as I had grown accustomed to my Mercedes and its power steering, which is much more suited to Autobahning. I enjoyed this lap very much and took it a bit slower than normal for fear of ruining something on Graham's little racer, and ended up overshooting the point where our friends were waiting somewhere in NC. This ended up being a good thing, however, as I was scurried back to the scene in the S2000 in what may be the scariest ride of my life (so far). Appropriately enough, my friend who had first told me about the Tail of the Dragon was the pilot. I wish I remembered more from that blurred minute or two.
I learned a lot that day, though. Don't leave your parking brake on- not even when the car is parked. Secure water bottles and other objects in any way possible, as they are wont to place themselves under pedals. Less a pair of 2 mm deep cut-outs in the glove box door (yes, it has to be open), there are no cupholders in the 190. And lastly, balding dry-rotted tires are good for Kmart parking lots, not US-129.
The mighty 190 served me well that day, and the inner hypermiler in me is proud to say that I managed almost 23 mpg on the tank after 4 runs of the Dragon. I'm ready to try things again (albeit with some new rubber and a raised car) so hopefully I'll be down in Eastern Tennessee in the near future. If you have the means, I highly suggest you check it out for yourself.
Original post here
For more stories about life with our 84 GTI, 88 911, 87 2.3-16, Alfa Milano Verde, Alfa 164LS, e30s, and more, check out the BlythBros. Blog We promise not to be too bitter. Sort of.