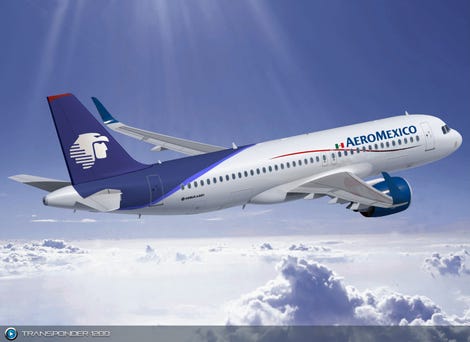 MEXICO CITY- (OPPO) The Delta-owned Mexican airline Aeromexico has chosen to back down their order of Boeing 737 MAX aircraft.
Aeromexico claims that Boeing was being abusive by releasing to the FAA that some optional safety equippment is not equipped in their planes. Crucial equippment like parking cameras, cross bird traffic-alert, and a milk foamer for the coffee machine was not installed in their fleet of B737 MAX8s.

Further on, the president of Mexico comented: "You can't treat Aeromexico this way, you see, it's like little animals, they have feelings you know, you can't disclose potentially life saving information to passengers just like that"

Delta's stockholders in Aeromexico say this was a "sentimental decision right out of a soap opera." But they chose to let the airline operate at it's leasure. As part of an ambitious restructuring, Aeromexico has ordered 110 A320 NEOs: They say that the milk foamer is included, as is a free A220.

As for the current six MAX8 aircraft in Aeromexico's fleet, they chose to sell them to the government for 5 pesos each. Saying that it would be beneficiary to the national security of the country. When asked about the lack of features, the President said that as part of his "fransiscan austerity" he would be willing to drink coffee without milk. Followers praised him for the decision.

Also read: Aeromexico given 95% of landing slots at MMMX.
When asked about the viability of operating three distinct aircraft, the Boeing 787, the Airbus A320, and the Embraer E jets, Aeromexico responded "We're an American corporation now, we don't think about long term issues. We just kick them down the road for the next CEO to solve."

Part of Aeromexico's expansion includes daily flights from Cancun to Merida, San Diego to Tijuana, and Mexico City to Toluca. This strong lurch forward is worrying main competitor Interjet: who is facing union issues.

After canceling hundreds of flights because of crew strikes, administrators at Interjet have comented "Its as if they want to be paid on time and not be forced to work overtime." One thing is for sure: The competitivity of Mexican aviation will continue to surprise the world.

Also read: Union boss drives new BMW as Interjet employees go back to work.