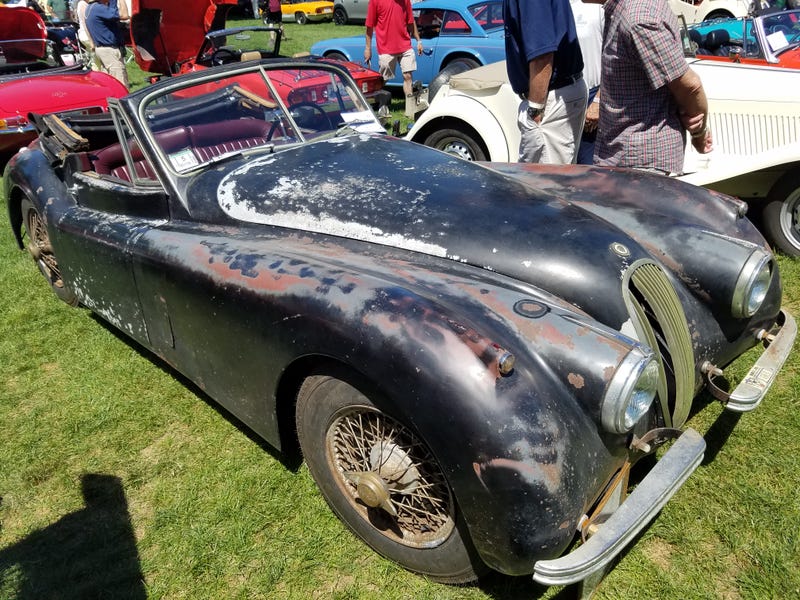 Yes - believe it or not - this heap is registered, insured, and inspected. The interior has been partially redone (hides only) and the tires are new. The engine has also been refreshed. The body however is totally roached! I hope the owner plans on keeping it this way as the patina is truly epic. I was shocked when I saw this decrepit old Jag drive in under it's own power. It sounded healthy too.
For the first time, I understood why people do this. If you attend a lot of events like these, you become used to pristine restorations. There were plenty of mint condition 120s and 150s at the show, but were there people crowding around them? Of course not. I had to stand in front of it for a few minutes just to get this shot.
The way various surfaces age differently within a couple inches of each other is always fascinating. Check out the trunk lid vs. the body panels next to it. The "bumpers" are in different stages of decay too. Something about the position of the car in that barn saved most of the chrome on the right, but not on the left.
I'm impressed by the wheels. How are they still safe!? Maybe they aren't? I would be dodging every single pothole I came across. Though perhaps these were strength tested and it's not a big deal.
New gauges, old wood. New leather too (obviously). Once again, there's a noticeable difference between the way each panel of wood has aged. The door trim looks like it'd be brand new again after a careful polish, but the gauge area is toast.
A Jensen! As you can imagine, these are incredibly rare in the USA. I have no idea how you'd describe the Carrozzeria Touring styling. Polarizing, or universally loved? A hatchback, or a coupe? Regardless I've always been a fan of these because they're so strange, and seeing one - especially in a quintessentially British color combo like this - is a treat.
Not one, but TWO Marcos GTs showed up. The owners were very excited about this. I like the shape: it looks like a stretched Opel GT to me, or maybe a downsized 250 GTO. Interestingly, these examples are powered by two different straight sixes. One is a TR6 motor, and the other is Volvo sourced.
An Esprit V8 TT, straight out of my childhood supercar book. I've always been in love with this shape. It's perfect. The transmission, however? Not so much. I had a fascinating conversation with the owner about its shortcomings and what he planned on doing to replace it.
Apparently, the Renault sourced transaxle began life as a 4 speed that had a 5th gear slapped onto it. First is extremely delicate, and according to the owner, 5th was added in so sloppily that letting off the throttle abruptly at highway speeds can also shatter the transmission.
The owner mentioned that many years ago, a rebuild kit was made for these transmissions. However, as you'd expect, they sold out quickly and the Esprit community has been without a proper solution to this problem for a long time. That's where some guy on the forums comes in (hearing these older gentlemen talk about forums excitedly is always amusing). He is an engineer who will be putting in a group buy order ($4000 each) for a rebuild kit that he designed himself. All 5 gears will be changed to slightly different ratios, and attached to just one piece of metal instead of two (that's why 5th was so delicate).
A DB5. This needs no explanation; it speaks for itself. The owner has a good sense of humor so he put a creepy James Bond cutout in the back. The silhouette caught me off guard twice while I was walking around.
Bonus:
This gorgeous Vantage shows up at British car day every year. I was hoping it'd be there. That paint color is just sublime. It has the best wheels Aston offered too. I think all of the comments cars like this and the Maserati Granturismo about being the "poseur's" or "poor man's" supercar are ridiculous. Depreciation is a car enthusiast's best friend, and the noise/styling of cars like these? That's what we live for. Furthermore, maintenance is still incredibly expensive. Any and all visits to the dealership beyond a simple oil change will be 4 figures. Rotors and pads, routine service, etc.
Next weekend: The Microcar Classic. That's always a fun event. Hopefully the Autozam AZ-1 and Toyota Cera that showed up to Japanese Car Day last year will be around.