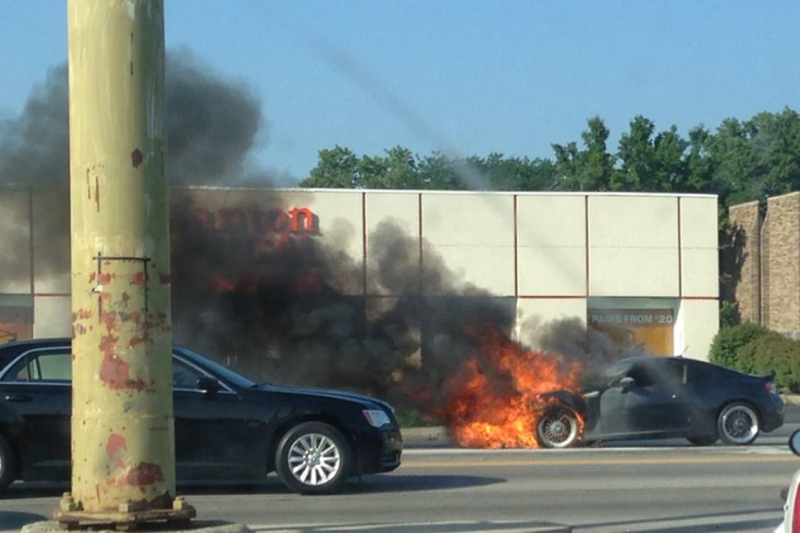 It's always sad to see a car go up like it was trying to be a Ferrari, but this is extra close to me because it's a BRZ that belongs to a fellow FT86Club member. This car was being driven by John Visconti while he tuned it when it went up in flames about 3 weeks ago. Was there evidence that Visconti may have been to blame for the fire?
Visconti was driving the car after his flex-fuel kit was installed by Don at Accelerated Performance. Both Visconti and Accelerated Performance have been a major part of the FR-S/BRZ scene right from the start. Accelerated Performance had the first turbo kit, and Visconti had the first tunes. They were the start of what is still a very strong aftermarket for the twins. Not long after they started, though, was Visconti clouded in controversy. Many customers were dissatisfied with his customer service and responsiveness. He was also being attacked, what seemed to be, daily on the forums for not being professional and not knowing what he was doing. Friends of mine that worked with him seemed to be very disgruntled after the fact. I only met him once, and briefly, but he did seem to have a stand-off-ish nature about him. Was this just his normal state, or was he pushed into being like that by people verbally attacking him on a regular basis? I don't know.
As for this story, Visconti came out with a flex fuel kit, so that twin owners could use any mix of E85 and Gasoline. The kit involved an extra fuel sensor that could read octane levels, and the tuning to match. Some users of this kit had complained about it being poorly put together and not well thought out. Not long after it was released, Visconti put out an upgrade to the kit. He charged $75 for the upgrade. One user said this about it:
The "upgrades" they are advertising is a coupler to offset the absolute f**kup they had with the incorrectly sized fuel hose and a new sensor so that we can actually bolt it down instead of ghetto DIY with 3m tape and cable ties. -enouf
The fuel hose was apparently leaking on at least some DIY builds and was dripping fuel onto the header. This problem was prevalent enough that an "upgrade" was necessary, but Visconti still charged for it saying:
I would really appreciate it if you would stop characterizing and implying that our FlexFuel kit has a "SERIOUS SAFETY ISSUE" that we have the audacity of charging to fix. I have acknowledged every fair point made in this thread (which is not to say that we've fixed every fair point made in this thread yet - I understand that talk is cheap; all that matters are results). There should have been a printed guide included with all kits versus our decision to sponsor the DIY thread that was made available from the day people started receiving the kits. That decision was made so that we could get the kits into people's hands as quickly as we could. The guide will be available soon though, hopefully by the end of today or tomorrow.

What I will not acknowledge is any "serious safety issue" with our kit, because there flatly isn't one. There is inherent risk when you do anything to modify your car. There is inherent risk when working with flammable liquids. There is inherent risk in modifications to the fuel lines. And there is inherent responsibility on the customer's part to take great care when installing anything on their car. Which is precisely why I've acknowledged several times that a printed guide should have been included, and will be included going forward. But that doesn't constitute a "serious safety issue" because there were instructions available from Day 1. And so just like we would expect you to not be smoking a cigarette when you're pumping gas in your car, we would also expect you to be comfortable and knowledgable before attempting to install the kit yourself. Any performance shop worth their salt would have no problem installing this kit correctly. So this other characterization that we're "blaming the customers" for incorrect install when there wasn't guidance, also isn't completely fair. Our position the entire time has been the same; we have not experienced any issues on the cars we've personally had access to (including the cars we didn't personally do the install on). The author of the DIY guide has also chimed in to verify that he too, hasn't had any leaks. Those are the facts, which is why I will ask again that you stop claiming our kit has "serious safety issues."
These "serious safety issues" came to a head when brzturbo's car caught on fire. Visconti was claiming bad install as the reason for all of the leaks before. This time, though, the install was done by Accelerated Performance, a well known performance shop and a shop that Visconti has worked with directly on multiple occasions. When the fire happened, brzturbo said he received a call from Visconti.
John called me and said "you are about to have a very bad day. We had an accident…we're talking worst case scenario type accident. I need you to meet me at the shop ASAP."
The fire looks like it started in the same area that the leaks were occurring, so many people are very speculative as to the cause, including brzturbo. Visconti has not come out publicly in response to this yet, and nobody has accepted the blame.