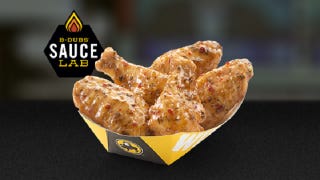 A week ago my wife sent me a link that said buffalo wild wings was cooking up a mountain dew inspired sauce. Being a 14 year old at heart I decided I needed them deep within me and since today is Boneless Thursday I thought I'd make it a lunch
(Full Disclosure: buffalo wild wings wanted me to try their new sauce so badly they advertised it on the radio at the exact moment I was hungry. They then made me pay 70 cents per wing for my body to perform it's digestive magic to turn them into fuel and gas.)
Taste (7/10) The flavor is definitely there. A Mountain Dew aficionado such as myself was pleased at the subtle hint of the drink that got me through high school (and probably the cause of child diabetes nation wide). There is also red pepper flake to back up the after taste with some heat.
Spiciness (3/10) While the red pepper flake does bring some heat these aren't spicy at all. I'd probably put them around the same heat level as BWW honey barbecue sauce. If you're looking for hot these will disappoint. They are more of a sweet wing.
Cooking (8/10) the wings today were cooked to about as perfect as you'd expect from a fast food wing chain restaurant. They were fried nicely and the chicken was tender. I had gotten there right as they were done cooking so they were still hot and fresh for me to put in my belly.
Presentation (5/10) it's a cardboard take out box, what more could you expect? At least they line the bottom with waxy plastic so the wings don't stick
Extra stuff (6/10) I got a side order of fries. They were ok
Value (7/10) you really can't beat 70 cent boneless wings. That said 50 cents for a cup of ranch dressing is straight up highway robbery.
Final thoughts: solid lunch and it certainly hasn't given me bubble guts like some of their other sauces have. I'd recommend trying them at least once seeing as they are a limited offer
Final score: (36/60)