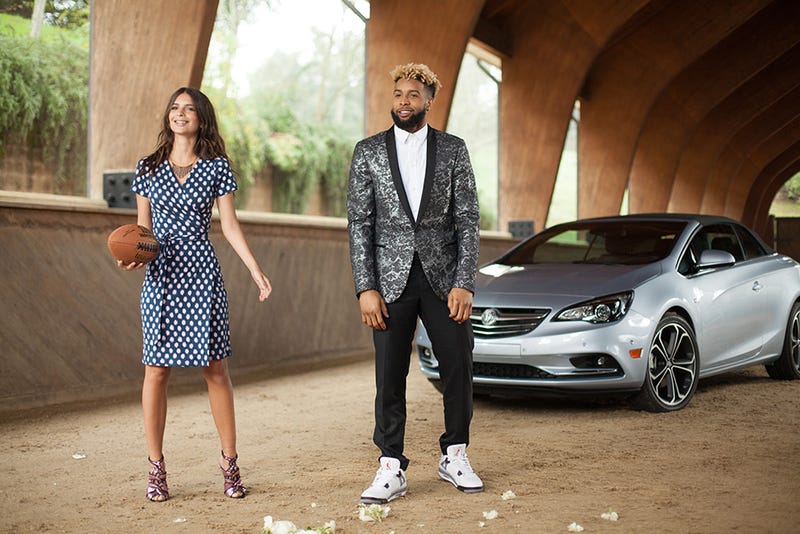 To introduce the rebadged Opel new Cascada convertible to the US market, Buick is airing its first-ever Super Bowl commercial, starring the NFL player who makes circus catches and head-butts other football players, and the actress you saw topless in the Blurred Lines video. This makes...sense?
Now, I only know about this commercial in advance of the Super Bowl, because news about it happened to pop up on Sneaker News, and I am a sneaker nerd who follows multiple sneaker blog RSS feeds. Odell is wearing Air Jordan 4 White Cements, which Sneaker News graciously included a close-up of:
Odell Beckham Jr. in a paisley metallic tuxedo with no tie, some nice crispy white Js, and oh hey there's Emily Ratajkowski = I need this here Opel Buick convertible! Obviously. Ok, I'm kidding. I have no idea what's going on here!
Thankfully, Buick put out a press release about this ad, so I'll leave it to their PR department to explain their rationale:
"With sales surpassing 1.2 million vehicles globally for the first time ever in 2015, the Buick brand has never been stronger," said Duncan Aldred, vice president, Global Buick Sales, Service and Marketing. "Super Bowl 50 represents a perfect opportunity for us to showcase our newest vehicles in a spot that delivers a mix of light-hearted humor and star-power to a global audience of millions of consumers."

"We wanted talent that represented attributes of the Buick brand and design philosophy," Aldred said. "For Buick, Odell Beckham Jr. represents unique talent and commitment to excellence that mirrors Buick's commitment to performance. Emily Ratajkowski brings style which aligns with the Cascada's design and adventurous spirit."

"While I would love to be on the field during the biggest game of the year, I'm excited to co-star in Buick's first Super Bowl ad," said Beckham Jr.

"I'm thrilled to be a part of Buick's first ever Super Bowl ad." said Ratajkowski. "I got to combine my love of sports, cars and fashion, while checking off a bucket list item – being in a Super Bowl commercial!"

That was very enlightening. Thanks, Duncan Aldred, VP of Global Buick Sales, Service and Marketing, for making everything clear now! The Opel Buick Cascada is the vehicular embodiment of the offspring of Odell Beckham Jr. and Emily Ratajkowski.
Congratulations to the new parents!