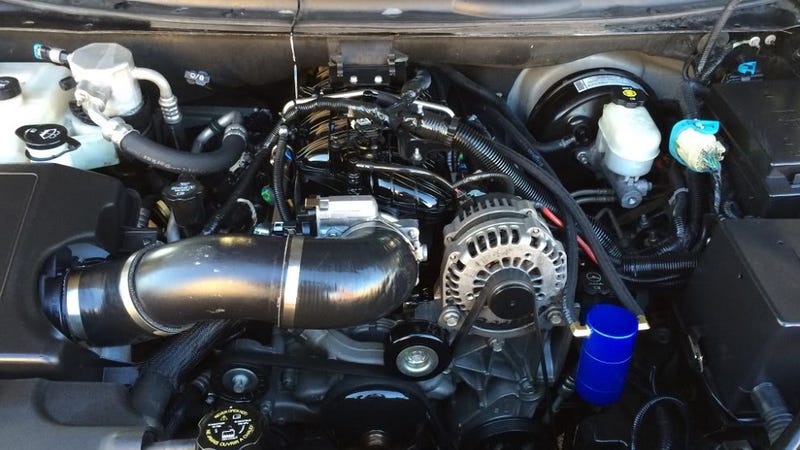 We are all familiar with the recent trend of hot rod SUV's and the prices that come with them. The powerful SUV is the hot rod of our times as it is hated and loved for being unconventional just like the hot rods of yesteryear. Most of the hot rod SUV's that are for sale today are quite high on the pricing scale as they are usually packed with luxury features but there is an affordable option that gives you Corvette performance at a Kia price.
The SUV I am referring to is a mashup of classic American push-rod glory with a touch of Swedish cosmetics and quirkiness. This is none other than the Saab 9-7x Aero. Released in 2008, the Aero featured a 6.0L LS2 engine found in such things as the Chevrolet Corvette, Cadillac CTS-V and its brother the Trailblazer SS. The Aero shared many things with the Trailblazer but also received a lot of upgrades and had an overall better fit and finish. Compared to the Trailblazer SS, the Aero featured Full Time All Wheel Drive that was supported by a Torsen differential. It also had better sound deadening for a more comfortable ride as well as a different exterior which gave it a more upscale look. The suspension was upgraded and lowered for a tighter and more aggressive stance. The Aero featured a laundry list of cool features which are noted below:
6.0L LS V8 engine
Cold air induction package
390 hp and 395 lb.ft.of torque
0 to 60 in 5.7 seconds
Heavy-duty electronically controlled four-speed automatic transmission
Heavy-duty rear axle and high-performance 12.8in rotors
AWD with TORSEN® torque-based center differential
Saab-tuned shock absorbers
20″ polished aluminum wheels w/performance rated tires
6500 lb towing capacity
The stock 9-7x Aero could run in the low 14s with proper driving and prep. Now you may be wondering, how you can consider something that weighs 4800 lbs a hot rod and how we are going to make it run 12 seconds in the quarter mile, and this lies in the beauty of the LS engine. Since this engine is no different than its siblings that sit in a Corvette engine bay we can use many different bolt-ons and get it into the 12 second range for pennies.
Looking around on the web and scouring craigslist and autotrader I have pulled up multiple 2008 Aero's with the LS2 with around 100k miles in the $11000 to $13000 price range so initial entry price is fairly low. If you are on an even bigger budget you can find the 5.3i model which features an all aluminum 5.3L LS engine for as low as $7000. The 5.3L will take most of the mods listed below except for the heads as they require at least 4.0in piston.
Our first mod on the list is going to be a set of L92 heads. These can be found on the newer Gen IV pickups and cars and feature larger runners and valves. These are a steal for the performance as they can be found for about $350 used and in good condition. The stock throttle body can be reused but the intake will need to be changed and you can pick up a used L92 style intake for about $200 dollars. Since all of these parts are being pulled I would go ahead and get the intake and throttle body ported which can range from $50 if you do it yourself to about $250 if sent off to a shop.
Our next step will be to choose a cam and there are many options out there. Depending on how you use the car you may choose one with all out specs that is good for race day only or you may compromise and choose a cam that give you power along with good driveabilty. Expect to pay anywhere from $50 to $500 depending on what you select. Our next step going to be a set of Long Tube headers. These improve exhaust flow and give a nice bump in power for a price starting at around $400 for a new set or $250 for a used set.
To round all of the mods, you will need a tune for the changes you have made. If you are handy at tuning you can buy HP Tuners or EFI live and tune it yourself or you can take it to a shop and have it tuned professionally. Most professionally tuners will charge in the $300-400 range for this type of tune. The last piece of the puzzle is some good rubber. There are many tire options out there but you can expect to spend about $1200 for a hybrid racing type tire set or closer to $2000 for some straight out drag radials.
All of these mods put together round you out to a price of about $1200 to $1500 and will put you in the 500-530 bhp range and will put down mid 400s at the wheels. Adding the tires for another $1200-2000 will get you right around $2500 if you hunt for the parts right and will net you mid to high 12 seconds runs at the drag strip. If you include the cost of the car you are spending less than $15000 for 12 second 500hp SUV that is reliable and has easily attainable engine parts.
---
---
Bozi is the founder of Hoonable.com and creates articles on everything from engine swaps to late model car restorations. You can follow him on Twitter and Facebook or drop him a line at Hoonable!