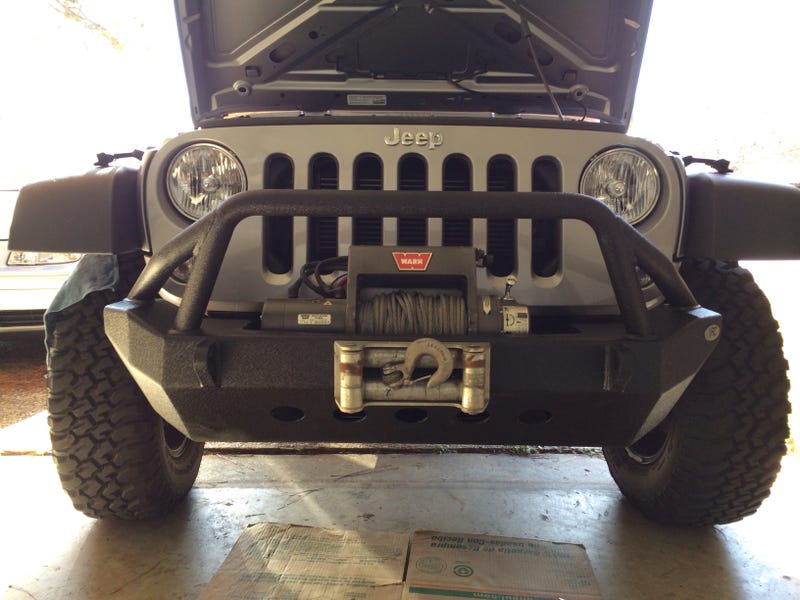 A couple of you requested build updates on the JKU. Consider your request fulfilled. I completed the first upgrade this weekend. If you don't care about Jeeps or off-roady type stuff, keep scrolling, nothing to see here.
I would first like to apologize for the lack of potato shots for this narrative. Since I know many of you are like me and don't like reading, I drew you pictures!
I purchased a Smittybilt XRC bumper PN 76806. Removing the factory bumper is pretty simple task and doesn't require much more than removing (breaking) a few clips and bolts.
Once the factory plastic heap is out of the way, the XRC requires you to drill out one hole on each side of the bumper mounting plates. I didn't have a drill bit large enough, but a die grinder made short work of them.
After putting the XRC in place and putting a couple nuts on to hold it in place, you're supposed to drill through the bottom frame member to add a couple more bolts for support. Unfortunately there's a slight clearance issue against part of the frame on either side, so it wouldn't sit completely flush against the frame member. It's nothing that a quick pass on the bumper with the aforementioned die grinder can't fix.
Once the bumper was installed, I put my Warn XD9000i in place. It previously saw combat on the old two door Tahoe from my bro-truck article and has been sitting in my attic, idle for years. I ran the cables under the grille and over to the battery. Surprisingly, it still worked which was a big relief to me as I didn't want to add the cost of rebuilding it or worse, purchasing a new one.
I picked up a couple D-rings (shackles) from Tractor Supply. They're stamped with a "China" label, and yes, that leaves me with a slight uneasy feeling about them. I hope I don't get into a situation where extensive force is placed upon them, but who am I kidding? I've had too many "hold my beer" moments without any beer to think they won't be abused at some point.
So that's it for the first upgrade. I'm thinking rock rails next. I've priced tires and wheels. They came in at a miniscule $3,800!!! It kind of made me sick to think of parting with four grand all at once. But fret not, I have devised a plan. I will drink and drink and drink…. And drink and drink until I've had so much that I pull the trigger and just live with the regret in the morning.