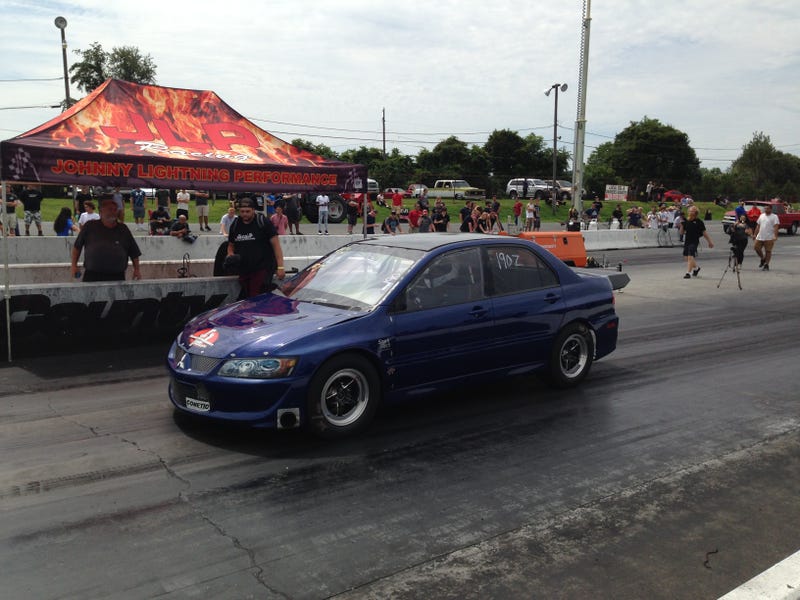 Friday Cruise Night, a Saturday car show, and a Sunday drag-racing event... can't think of many better ways to spend a weekend! The drag event was a last minute addition to an already packed weekend. Pictures from the car shows will be up in the next few days, but in the meantime, here are some crappy iPhone photos from the drag event:
A friend of mine told me he was going to Cecil County Dragway to watch some YouTube personalities I don't know (or care to follow) race each other, and invited me to join him. Of course I said yes. I'd never been to a drag strip before, so I figured I might as well. After a leisurely drive down Route 10, with a stop for lunch at Wawa, we made it to the strip at around 1pm. While most people were interested in the YouTube personalities, I found interest in a few of the other cars. First of which was the Evo in the top photo - It put out 1000 hp according to the owner (not sure if wheel or crank). I believe him, as I saw it run an 8.36 at 181 mph.

The top fuel dragster (I think) ran a 5.94 at 215 mph.

Also of note was this Chrysler 300C
Fairly quiet except for the wheels and tires, and the sound of the NOS purge, it was truly a sleeper. It ran in the 9s - unfortunately, I forget the exact time and speed, but it was quite surprising.
I can still mostly hear, everything still smells like burning rubber, and I only got slightly sunburned... I'd definitely do it again!