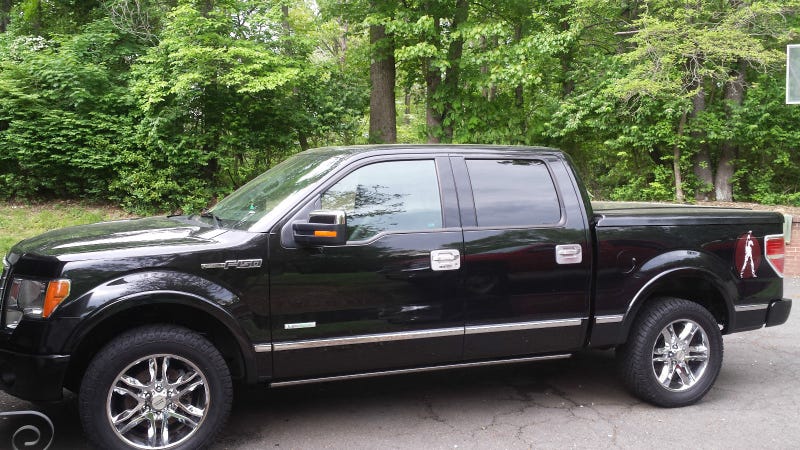 Having survived cancer twice, a friend is celebrating 11 years of being cancer free and has been nominated for The Leukemia & Lymphoma Society(LLS) Man & Woman of the Year campaign! The LLS mission is to study and cure blood cancers. His goal is to raise $10,000 for each of his cancer-free years—totaling $110,000. As part of his fundraising campaign he is working with a family friend of his to sell their Toby Keith Edition Ford F-150 with EcoBoost and a portion of the final sale price will be donated to his fundraiser by the current owner. The total amount LLS receives will be based on the following three donation rates:
For the first $100,000 25% will be donated.
50% of the remaining sales price between $100,001 to $250,000 will be donated.
75% of the remaining sales price above $250,000 will be donated.
The truck was won in the Built Ford Tough Locked & Loaded Tour Sweepstakes; it is the only one in the world, a fully-loaded SuperCrew customized throughout with Toby Keith's signature, icon and gear. Toby himself presented the truck to the winner at a concert. Some highlights of the custom work are:
Preloaded with every song and music video from Toby Keith
Toby Keith signature on all door handles and throughout the vehicle
Toby's Ford guitar painted and signed on the bed cover
Custom seat embroidery
Custom front/grille
Custom paint
If you are a Ford or Toby Keith fan now is your chance to own a truly one of a kind vehicle and help a great cause.
Visit the ebay auction here: 2011 Ford F-150 Platinum Toby Keith contest truck
You can donate to the fundraiser here: Fundraising Page
To learn more about my friend and his truly amazing story you can read his blog here: cancerslayerblog
(5/30 2:24 Est Update: Clarified the language of the donation levels)