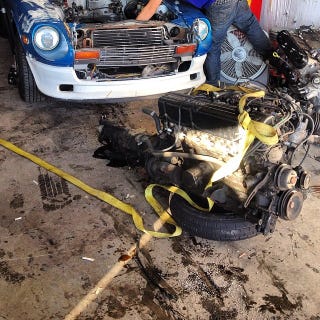 Boy oh Boy am I excited to spend money this week . So first things first. I'm selling the old motor and transmission out of the Datsun . If anyone is interested just let me know. I'd let this thing go for dirt cheap or even trade for something cool . Who knows..
Now for the good stuff, I went into town last week and managed to find a oil pan , a intake manifold and throttle body and got the flywheel I needed. When I went to get the flywheel I spoke to Chris who will be doing the tune on the Datsun. He showed me some of his other cars that are complete daily drivers . One being a 2013 Jeep Wrangler that was "Bro'd" but did have a 5.3 liter with a big cam.
After talking about what will be done to the car when he does the tune. It looks like I'll -be doing a cam swap . He recommended two cams the Comp Cam 54-457-11 273/281, Lift .610/.617 and the bigger Comp Cam 54-458-11 277/285, Lift .614/.621.
I will be going with the smaller of the two because I plan on driving the car long distances as well as a daily driver . Either way the car will sound like a pissed off monster.