It's been a 13.5 months since buying my 2001 Porsche 996 Carrera 4. That's a bit over a year of expensive German car that is almost old enough to vote ownership. My single biggest fear in realizing my life long dream of buying a 911 was what it would cost to keep it on the road. Now that I've got real numbers, it's not as bad as I thought.
The Search
I decided last year I was finally in a place where I could justify buying a 911. Total budget was $25k-$30k. That put me in the realm of seriously roached out early 997, or just about any 996 on the planet. I'm 41, the 996 came out when I was 22, and I've always really liked the look of them. I think they have the nicest ass of any 911, and the headlights work for me. The interior isn't the best, but again, it works for me when it's in good shape. My requirements were it be a manual, solid mechanically with some sort of history and clean title. C4 or C2 I didn't have much of a preference, I saw advantages both ways. If things weren't where I wanted the price needed to be low enough for me to justify putting the money into it to fix. Mileage wasn't much of a concern, and higher was better in my mind, 75-130k was fine since it meant the car had been driven regularly and I'm not looking for an investment.
I'll be bringing up the IMS a few times. For those unaware, there is a bearing on an intermediate shaft that can fail on the 996 and early 997. When it does, that's the engine. The failure rates vary from 2%-7% depending on what source you look at. Replacement at a local shop that is certified to do it and does a full qualification to be sure the engine is healthy is $1800. IMS is the boogieman in the 996 world. Some people claim it's not an issue, some claim it is. I'm an inherently paranoid person, so if a replacement hadn't been documented in the car's recent past I was going to do it. Plus, the clutch is right there and no additional labor at the time and I was looking at higher mileage cars, so I could get the car at a good baseline for my ownership.
I drove a few cars. I drove a 2005 and 2006 997 C2, a 2003 C2, a 2004 C4s, and the 2001 C4 Cab I ended up buying. The 997s were nice, the biggest thing to me on those were the interiors were much nicer, and if I had my choice I'd prefer the headlights and front bumper of a 997. However, they were both near the top of my budget (25k for one, 27k for the other), and in those years the IMS is still a concern. Also, condition wise they weren't the best. Worn tires, strange sounds from one of them, and the other the dealer that had it wouldn't put it on a lift for me to look at so it was suspect from the beginning.
The 996s were all similar. Initially I only looked at the 03 and 04. Driving wise the C4s was not as fun as the C2, the C2 felt more lively. Condition wise they were both nice and well maintained, although the interiors suffered from scratches like so many 996s do. Neither had an IMS service done. The C2 had 60k ish and was asking 22k and was sitting on aftermarket wheels that I wasn't a fan of even though they were very good expensive wheels, black wheels on a black car with a polished lip just isn't my thing. The C4s was a 90k mile car and was $25k. The C4s was red with turbo twist wheels and a grey interior.
The Purchase
I decided to sleep on it, and the next day woke up to a message from my father that he had seen a Cab on a tiny used lot about 30 miles away, right by a breakfast place we like. He's my partner in crime on things like this, so we decided to go have breakfast and check it out.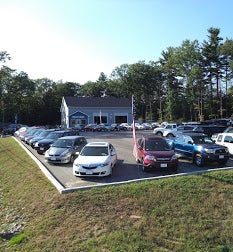 After breakfast we drove to the little shop that had the car. Nice little spot, family owned local place that I know has been there for years. I start walking around the car checking the details like tires, curbed wheel, scratches etc and things look good. 2 wheels have been curbed, front has clear film on it, and is in excellent shape, no dings/dents, no red flags at all. The top is decent, the rear window is a bit foggy, but serviceable. At this point I go inside to ask the guy for the keys and more info. He has no history on it, but shows me the clean title which shows that he's had the car for about 5 months.
Go out and check the interior, and here's where it's a real mixed bag. It's a grey interior, but there are a lot of scratches. Cruise control stalk is broken off, but everything else works as you'd expect. Seats are in good shape, steering wheel shows wear, shifter scratched and worn, all the things that show the car has been used and are easily replaced but are great for driving the price down are there, just the way I like. Take it for a drive, and it drives like new. Runs perfectly, handles well, no lights or red flags mechanically. 105k miles on it, and even has good AC!
The guy lets me put it on his lift and check it out, for the most part things are good. There's a leak from the rear main seal, torn boot on a front axle, and a rattle in the left muffler. I say thanks and leave to go do some thinking.
After we leave, I decide to google the name of the last owner that was on the title. He is in MA (I'm in NH), and he comes right up, and thinking that if I owned a Porsche at one point for 15 years, I'd probably enjoy talking about it to someone else, I give him a call. Turns out he's a really nice guy, loves cars, has had multiple Porsches and other sports cars. He had traded it in at the Porsche dealer when he brought it in for service and he fell in love with a new one. He had service records, and had kept the car maintained, and even had the second key that the dealer I looked at it was missing! No IMS service, still original clutch. I thank him for his time and go back to talk to the guy selling the car again.
He's asking $19k for the car, with a 6mo warranty on it. I tell him that I've done some research and thinking, and want to know what his best deal is. He comes back with 17k out the door. I reply that I don't need his warranty, and will write a check today if we come to an agreement. He looks at his computer and says $15k to which I reply $14k is where I would feel comfortable on the car due to the lack of records, no IMS service evidence etc. He laughs and says that he had no idea when he bought it what an issue the IMS would be with people and he could have sold it a dozen times if he had proof of that service. At this point we had a deal, and I had the terrifying prospect of having bought a 16y/o Porsche.
Intitial Investment
So day 1 I'm sitting at $14k for the car now. $11k-$16k under my max budget. I'm pretty comfortable knowing that if it needed a full engine rebuild tomorrow I could make that happen with my budget, sell the car as a roller, or part it out and get my money back out of it. It's not my daily driver, it's a toy, so I don't need it to get me anywhere. This is a good place to be to keep paranoid me from freaking out.
Registration and title is $350 on day 1. I do an inventory of all the stuff I want to do, and I'm left with misc interior pieces, new cruise control stalk, clutch, IMS and RMS. Call and make an appointment with South Shore Autoworks in Kingston MA to do the Clutch, IMS, RMS, and axle boot and give the car a good going over to give me reliability for the next few years and drop the car off.
They came very well recommended and were excellent to deal with. During the qualification for the IMS they found a few other things and ended up dropping the engine. Plugs, coils, plug tubes, cam chain guides and a few other small things since I told them to please replace anything questionable that was a bitch to get at without dropping the engine to hopefully save that pain in the future. $5300 total. I'm now at $19650 but should be good for a long time engine wise.
That left things easily addressed in the parking lot in front of the condo I was renting while my new house was being built. The interior came all Graphite Grey, including all the plastics. They were pretty scratched and ugly, and I prefer some contrast, so I took advantage of Boxster parts commonality and started shopping junkyards and ebay. Approximately $200 later all the scratched interior plastics were replaced with black ones in good shape. $40 got me a used black shifter and boot, and $60 got me a new set of stalks for the car to replace the unit in the car with the broken cruise control. This brings me up to $19950.
Now it's time to make it more livable. Searching on Crutchfield I found a Pioneer head unit that blends in well with the dash and looks very close to stock so I have bluetooth. $250 gets it coming my way with the wiring and kit to make it fit. I'm not a fan of the stock lower center dash with the tape holders in it, so $300 later a console delete from the GT3 is in the car. We are now at $20500.
Now it's July of 2017 and the car is comfortable, everything works, and I'm driving without worry, all at $9500 under my budget. Top down is a blast, it's comfortable and fun. About a week after getting it back from the shop I started noticing that the battery was dying, so $120 fixed that. Did several 200-300 mile drives up into the mountains with my son and really enjoy the car. Really didn't do anything else to it all last year beyond putting gas in it until I put it in the garage for the winter. Always fires right up, drives well, top doesn't leak, all is good. Renew registration in November, $350.
2018
Spring 2018 rolls around, and I finally get around to changing the oil. I know, I know. I should have done it in the fall when I put it away, but I was busy. $140 from Rennpart gets 10gt of DT40 oil, filter, gasket, and a magnetic plug. It's March now, and I decide to go for a drive and put the top down like an idiot. It's fairly cold, but nice and the heater is like an inferno. When I go to put the top back up the stitches on the back window rip. Damn it.
Bring the car to a couple different top places, 2 of them have extensive experience with these cars. Both say the same thing, they have to pull the top off to resew the window, and the labor is half the cost, plus the top is 17yr old so may as well replace it. $1700 with plastic window, $2100 with glass. For now I'll patch it up myself with silicone and budget for the top in the winter when I'm not driving it.
The car has the PSE Porsche Sport Exhaust. There is a valve that opens and closes to make it loud or quiet. The one on the left of the car is rattling badly. I pulled off the bumper and discover that the ball on the actuator arm has broken off. This leaves me with it bouncing around and sounding like garbage. I decide to just safety wire it open so it always sounds good, and do the same on the passenger side. Already had the wire, so this one is free.
Progressively there has been a noise getting louder in the back of the car on cold startups that goes away after 10 minutes or so. I pulled off the airbox and belt and start spinning pulleys only to discover the waterpump is noisy and has play in the pulley. Back to Rennpart for a Waterpump kit. Pump, 160 degree thermostat, gaskets, and a couple gallons of coolant. $320 to my door and a few hours in the garage.
That brings us to today.
Current total
$14000 - 2001 Porsche 911 C4 Cabrio

$350 - 2017 Registration

$5300 - IMS, RMS, Clutch, Plugs, Cam guides, axle boots etc
$200 - Interior plastics
$40 - Shifter and boot
$60 - Steering column stalks
$250 - Pioneer headunit and wiring
$300 -GT3 console delete
$120 - Battery
$350 - 2018 Registration
$480 - 1 year full coverage insurance
$140 - Oil change
$320 - Waterpump, thermostat
Add it all up and the grand total for everything including registration and insurance is $21,910. Not bad since my budget was $25-$30k. It's now sitting at 112k miles and I'd feel comfortable hopping in it and driving it cross country tomorrow. I've been averaging in the 18mpg range, so I've also put about $1200 in gas into it.
How I feel about all of this
Fairly good. I own my dream car. I love every second I've spent driving it and I feel like I can depend on it at this point. It's a fairly useful car, the trunk is a good size and the back seat can fit my 10 year old for trips up to about an hour. If I decided to sell it, I could get most of my money back out of it, I'd imagine $19k or so would be a realistic price, although I don't intend to sell it. If I did, I'd probably go with an E46 or E90 M3 convertible since I have a lot of experience working on BMWs, and they have a larger back seat since the kid is growing and my back seat becomes less useful by the day for him. That said, I don't see myself selling it. I love my car.