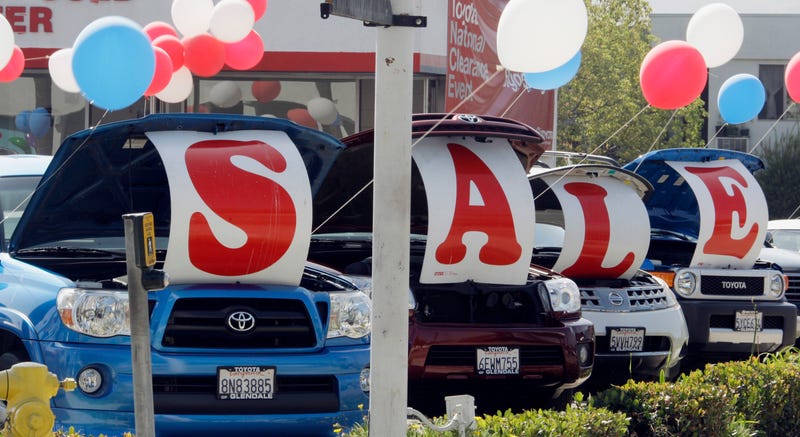 Ask anyone about when to get the best deal on a car and they'll tell you to do it at the end of the year. Perhaps you've met someone who told you about the time they went to a dealership during the last week of the year and not only got the car for half price, the dealership also threw in a big screen TV and a free boat, plus gave them a massage with a happy ending while they were printing up the finance papers.
Seriously though, it's a good time to buy. Dealerships are eager to hit both their monthly and yearly numbers at the end of December and the deals are good. But if you go during the last week of the year, expect it to be a total shit show. Everyone with the time off work and the money to spend (or not, but that won't stop them) will have the same idea you did.
Pictured: outside the dealership at 8:45am on December 30.
Here's an alternate suggestion: Just buy a car before Christmas. Preferably on the 22nd or 23rd. Why? Showrooms are dead right now, as American consumers are more occupied with Christmas shopping and planning trips to Grandma's than they are with car shopping. Dealership managers are stressing out over lack of customers and the salespeople have nothing to do, and the closer we get to Christmas the more eager they'll become to make a sale. Winner: you.
And all those deals you'll see on TV as you drink egg nog and watch A Christmas Story for the third time in 12 hours? Those specials run all month long, even into the first few days of January in some cases. You're not missing anything by going early, and in fact you may even get a better deal.
At this point in time most dealerships are still looking at a huge sales target to hit, yet their sales month to date may be as low as half of what they normally are. They're going to be hungry to make a deal, perhaps even a better deal than they'd make at the end of the month- because once they hit their sales target there's no reason for them to take unprofitable deals anymore. If the dealership hits its goal on the 29th anyone who comes in shopping on the 30th or 31st isn't going to get the deal they could've gotten a few days prior.
So if you want to buy a car this month, do it now. There won't be a crowd, you won't feel rushed, and you'll get top-notch service from a salesman who thought he'd have nothing to do today.