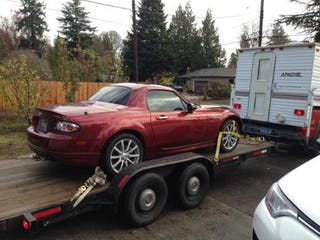 My dad delivered the Studebaker from MN to OR, now I'm sending the NC from OR to MN because that's where the only body guy I know who isn't a crook/douchebag resides. Next time I see it, the smashed-up nose should be all patched up.
Back story on this car: it's a 2007 GT PRHT *sigh* automatic that was wrecked and abandoned in a field. I came to the rescue and ended up with a way nice, low mileage Miata for way too cheap. And honestly, the automatic is extremely responsive. The car is so good to drive that I ditched my NA in favor of it.
I probably won't see it again until some time next year, but with a baby on the way, full-time college, starting a new job, a Studebaker and 2 Jeeps- I probably won't miss it much.