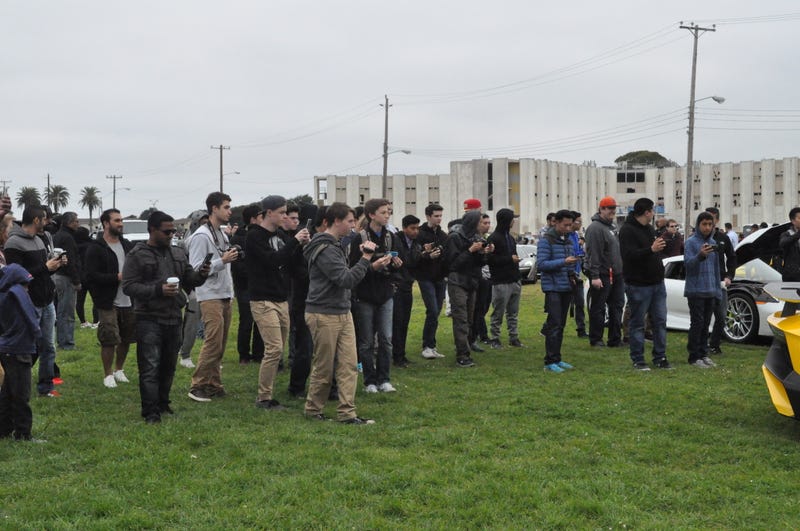 Meanwhile, the Pied Piper of Italia leads the supercar fanbois on. Lot of pictures and captions below.
Cars and Coffee SF caters head over heels to the exotics and refuse to give the slightest amount of respect to regular car enthusiasts. If you ignore the regular car enthusiast, there is no point to the C&C as it will just be a party of one, or just a dyno day at an exotics "modification" shop. The reason I put that in parenthasies is the only modification one would do would be an "race inspired" carbon fiber body kit, louder exhausts, or HRE wheels. Why are the exotics who are admired by few have special treatment while the rest of us are shoved to a corner parking lot? This growing dis proportionality is now giving reason with a lot of car enthusiasts to not come to C&C SF. Do enjoy the rest of this post, but don't forget what Cars and Coffee was truly about. Individuality of individual car enthusiasts. I see individuality suppressed while conformity has become the norm.
I've never been behind a Outback pumping out black smoke, so this was a first.
These new black and yellow plates provide lots of options for personalized plates.
Uh, 2002. Sexy. (it was cold and I was shivering, that's why some of the photos are blurry. and weird lighting)
Part of the Cruise. It was very fun getting to SF.
First doggo spotted.
The wonderfully awesome Nissan truck.
Heel toe, bruh

A very accurate BTTF Yoda Truck. It's not the real one, but damn near perfect.
It was clean beyond belief.
Careful McFly.
You know it's professionally done when you use alligator clips.
Yolanda and Jack have a car. It begs to question if this is is an work of art or a track toy.
"WHAT ARE THOSE" was emitted in my mind.
The Aston Martin owner made sure to have it color matched. I guess he chose the whale.
Eyes bulging, questioning paint job what what what what
"Dude it's so small"
Ok, I'm really getting brainfucked with these two Supras. In the above picture, we can clearly see the bumper is a one piece deal that can be detached from the body itself.
This Supra with a body kit seems to have it bondo'd or something to make it look....seamless! Is it carbon fiber? Is it fiberglassed over? This is confusing me.
You know you are a professional photographer when you bring a tripod to Cars and Coffee.
This is a Camry that has a ADM (Australian Domestic Market) Vienta rear end swap. It's not JDM, bro.
This wonderful Camry Vienta IS A MANUAL buuut has a Nardi steering wheel mated to a disappointing eBay hub.
When the nitrous bottle is this big, you know they are fucking serious.
Someone's from benefiting from Jazzercize classes.
Meanwhile, Richard Hammond passionately revs Oliver.
Oliver...is..titillated.
RX7, what is that on your car?
NACA duct, what is corking you up?
It's probably some sort of reliability things, you know, RX7 things.
"grrr my Ferrari my rules...only gourmet dog food"
8k Redline life "whop whoop"
The ram air intake seems to be missing. Partially.
Pontiac rocking those fake vents to the grave.
10 MPH bumper life
A Starion with a 1JZ swap. Very few knew what this was. "Whoa body kit...no it's a factory widebody..."
Little late to the show, dude.
Tripod man is very serious with his photography.
"Dude in the 918, you're blocking traffic...there's like a line behind you"
It brings me to tears when these shocks are uselessly used on a lifted truck.
Very few can ruin a Raptor. This company almost ruined it for me.
Tripod yoga life
A little challenge for Oppo. What model and brand is this car?
It has this engine in its engine bay.
This is the interior. Hint (It's not coachbuilt)
Gotta give a hand to the traffic wombles that were guiding people into spots and prevented a clusterfuck.
I wonder if it steers to the right.
I do love that rear light setup. Sexy.
Super awesome Delica Wagon.
Hate to pull a plug, but the dealer that owned this informed me on how to make a smog legal JDM 25 year California registered import. You get it bar inspected and dyno tuned and modified at a nasty price of 9k (at least for a Skyline to pass CA smog). Jesus.
This guy was balling on two wheels.
For K-Roll.
The archetypal NorCal wheelset.
Is this a Honda S-series?
"Unlike your AE86, mine is a tofu delivery vehicle and has battle scars"
What.