I met up in an unlit, electricity-less garage well after dark in a sketchier part of town to pickup up this Prelude center console
which will be going into my EG Civic. The current centre console in my Civic has no armrest, and the world's worst cupholders. Almost worst for existing than for not.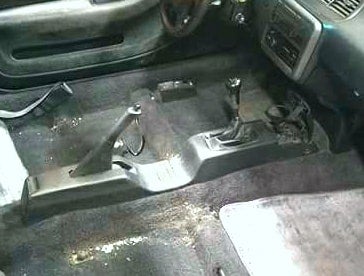 the current cup holder is a sort of magic origami fold away thing that on it's own is too small and flimsy to be trusted with anything. Compounding its badness is their location under the dash, so nothing tall can fit in the holder.

There is an optional version from the sedan civic that has the armrest, but still no improvement on the cupholders (these two pics are from my EG loving friend who recently swapped his sedan console into his more driveable coupe)

The current cupholders are wasted space that can't hold anything, having no cupholder would be an upgrade. Which is good...

because my new Prelude console is actually missing the part that flips up and reveals the cupholder :D
To be rectified.

Anyway, the mod isn't a new one, here's a thread where the process is detailed.

http://civic-eg.com/forum/viewtopic.php?t=16335
I'll need to find a way to mount the radio cage securely, fab a bracket to relocate the handbrake sideways, make up little tabs to mount the console itself, and trim the portion of the console where it meets the existing civic dash
But in the end it should look something like this (not my pics)
this will of course be a nice compliment to my overhead console which is from a jeep. here it is installed in my last civic. the new one is as yet still sitting on the bench awaiting install in the current civic