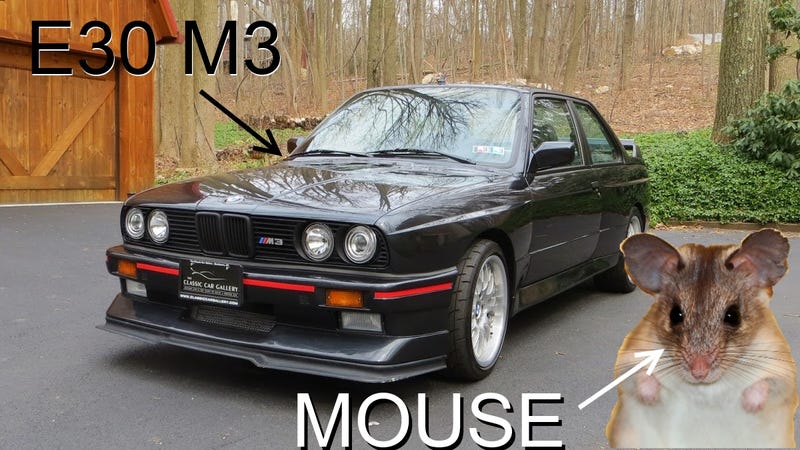 What do you do when a small rodent dies in your car's ventilation system and starts emanating the rotten funk of decaying flesh? Your minty clean classic BMW M3 suddenly becomes the The Ultimate Decaying Machine.
As anaerobic organisms begin to consume the poor little whiskered fellow's remains, they produce a variety of noxious compounds including methane, hydrogen sulfide and ammonia. Do you put a bandana on your face and just drive through through the fetid stench or do you spray bleach into the vents and hope for the best? The latter is what the seller did of today's 1990 BMW M3 E30 currently bidding for $29,101 reserve-not-met with 4 days to go on ebay, located in Glenmoore, PA.
The E30 M3 has been riding a tsunami of price appreciation in the past decade or so, and is the poster child for the "they don't make em the way they used to" movement. Lightweight, uncomplicated, tail happy, simple - it is everything that today's M3 isn't and that is a good thing.
Under the hood of the E30 M3 is a 2.3 liter dual-over-head-cam S14 inline-4 (essentially an S38 inline-6 with 2 cylinders lopped off) that puts out 192 horsepower in catalyst equipped US spec. This one has a Turner Motorsports Performance chip tune that bumps horsepower up to 216 and adds another 19 ft-lbs of torque.
Inside the only evidence of mousemaggedon are a few stains in carpets from where the bleach concoction sprayed into the vents leaked out into the carpets, but the HVAC system was taken apart to recover the corpse. Smell is 100% gone according to the seller. Otherwise, the choice of vinyl when redoing the fronts seats looks good and this thing looks ready to run.
Originally posted as DTO: Mickymaus-sarg: 1990 BMW M3 E30 on Daily Turismo.
Image credits; Brian M via onedrive, and LEOL30 via flickr creative commons. Seller submission from Brian M.