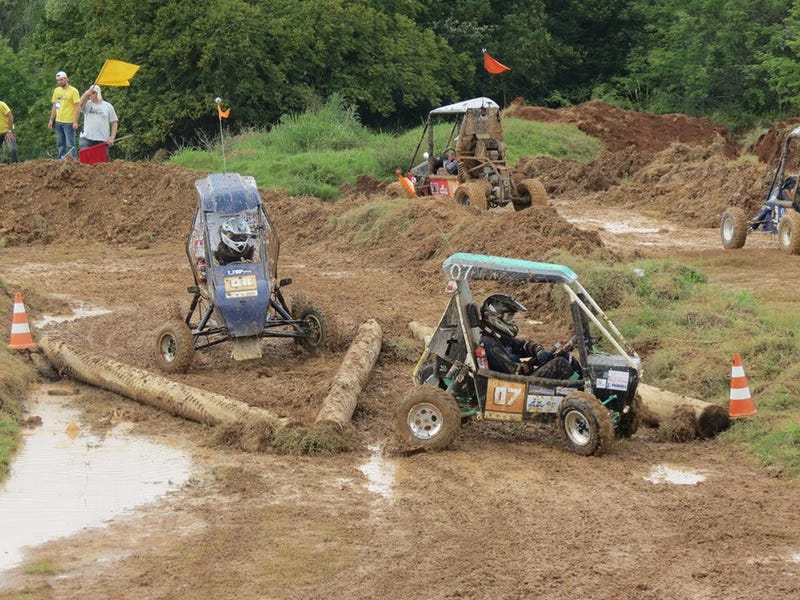 Hello, guys. It has been a pleasure to follow up your content on Opposite Lock and Jalopnik, and now I'm here to ask for some gearhead help.

For those who don't know, the Baja SAE competitions are made for Engineering students worldwide, to branch out their tech knowledge, and challenge themselves while building some awesome off-road cars. I'm a Mechanic Engineering/Tech student from a brazilian Tech college (FATEC-SP), and here are some pictures from my team's red car on the mud:
I'm a member of the team since Jan. 2012, and today I'm responsible for the car electronics systems and suspension parts. Overall, it has been an excellent experience, full of tries, brillant improvements on the car and life lessons, all of this, while being surrounded by some of the best car people in my area.
Well, about the cars, you ask? They are RWD roll-cages, with lots of off-road capabilities, and powered by a 305 cc Briggs & Stratton engine. Thats already enough for a great number of challenges, including towing, going donwhill over rocks, and 3-hour door-2-door races. Also, endless and glorious RWD hooning...
As any racing team, we also need to take care of the bills. A couple weeks ago, the people from Starrett-BR (major tool company), gave us a chance for getting some sponsorship, while offering tools and other stuff. But we'll only have the sponsorship if we get 500 registrations on their FB App, and its due December 22 th. Here's how you guys can help:
There you go. Simple, right?

So, thats all that I'm asking for you. Help us guys, and give us a chance to be on the insides of the future of motor industry!