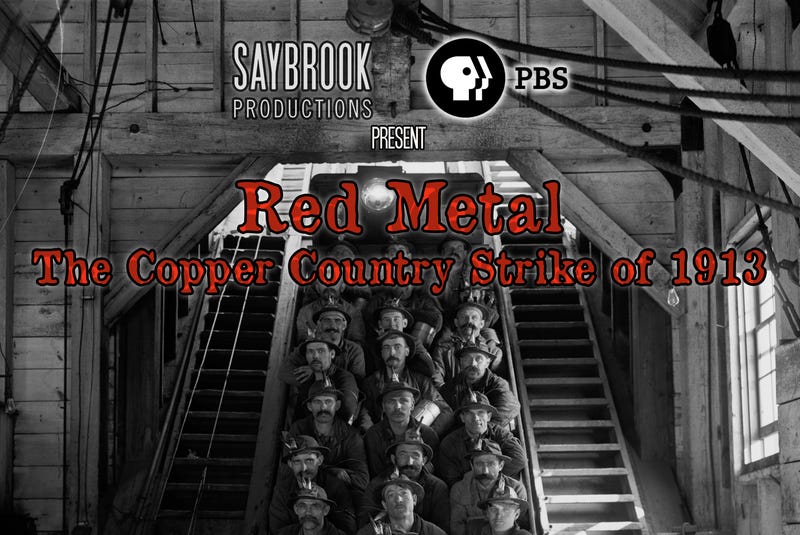 Don't know if there are any Oppos or Jalops in Tulsa OK but if there are, you can stop in and see me on October 4th. I'll be showing a film I appeared in called "Red Metal: The Copper Country Strike of 1913."
I wrote a book about an event often referred to as The Italian Hall disaster. There, 73 people died in a stampede after a false cry of "Fire!" during a Children's Christmas party. You couldn't make up a worse story. 60 of the victims were children. And the context was a labor dispute; the man who yelled "Fire!" was most likely a strikebreaker hired by the mines to make life tough on the workers.
2013 was the 100th anniversary and a filmmaker made a documentary on the event and the strike called "Red Metal." I was the historical adviser for the film which appeared on PBS nationwide. One of the prominent pieces in the film is Steve Earle singing "1913 Massacre," which Woody Guthrie wrote about the tragedy.
Now, the Woody Guthrie Center is hosting the film at the Circle Cinema in Tulsa and I will be on a panel to talk after the film. If you are in the area, stop by and say Hello. The film is fascinating but not just because I am in it. It is an astounding story - It happened a hundred years ago but many of the themes present in 1913 are present today.
October 4, 2:00 p.m. at the Circle Cinema. I'll be there before and after the film, and will be signing books and so on. I'd love to meet anyone here who can show up there.
Follow me on Twitter: @stevelehto
Hear my podcast on iTunes: Lehto's Law
Steve Lehto has been practicing law for 23 years, almost exclusively in consumer protection and Michigan lemon law. He wrote The Lemon Law Bible and Chrysler's Turbine Car: The Rise and Fall of Detroit's Coolest Creation.
This website may supply general information about the law but it is for informational purposes only. This does not create an attorney-client relationship and is not meant to constitute legal advice, so the good news is we're not billing you by the hour for reading this. The bad news is that you shouldn't act upon any of the information without consulting a qualified professional attorney who will, probably, bill you by the hour.