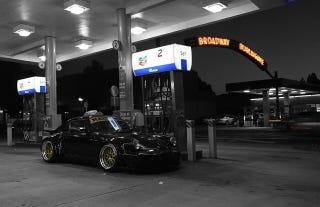 I had an experience yesterday that completely shook me to my core. I got to drive a Porsche 964 Carrera 2 through the backroads of Great Falls, VA. A thunderstorm rolled in 10 minutes into the drive. It was incredibly fun but I was playing it safe because my inexperience with a rear engined car.
Near the end of the drive the storm went away and the roads began to dry up. I started getting used to the car and it become much more fun. I still didn't want to push my luck so I wasn't driving as aggressively as I normally would on the twisties. It was still an incredible drive and made me lust after a Porsche like never before.
The Porsche belongs to my mechanic and isn't for sale. He just rebuilt the engine and refreshed the suspension so it was an amazing car to drive.
The 964 bug hit me hard, and to make matters worse I'm a HUGE RWB fan. Nakai San is easily one of my favorite enthusiasts and the work he produces is just phenomenal. I was almost up until dawn looking at RWB's and watching them being raced.
Naturally I began looking at 964's to see how feasible it would be to get one. I was happy with what I was seeing, except most the ads I was looking at aren't really current.
http://rennlist.com/forums/964-for…
http://forums.pelicanparts.com/porsche-cars-s…
1)What can I expect to now pay for a good condition 964?
2)How hard would it be for someone who's never worked on/owned a Porsche to work on the car? Rennlist seems like a valuable resource that is filled with DIY's. I'm fairly mechanically inclined.
The 964 would not be my daily driver, although if I can find a nice enough one I'd love to DD it in nice weather.
Lastly, I'd eventually like to go down the RWB path. I understand the kit is $20k... I still think a molded RWB 964 is the best looking Porsche. I have a feeling I'll eventually settle for a different widebody kit, but I can dream haha.