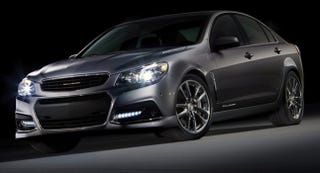 Via Carscoops-
Available for order now, the Callaway SS begins by adding an Eaton Roots-style supercharger system and a low restriction exhaust, which along with some other upgrades under the hood, allow the 6.2 liter V8 engine to produce an estimated 570-horsepower and 535 lb-ft of peak torque, up from the stock naturally-aspirated version's 415hp and 415 lb-ft respectively.
The supercharged V8 is linked to a 6-speed automatic driving the rear wheels, with Callaway quoting an estimated zero to 60mph (96km/h) sprint time of 4.5 seconds and a quarter-mile run of 12.4 seconds at an exit speed of 110mph (177km/h). GM says the factory model does the standard sprint in about five seconds, so that's a significant improvement for Callaway and its SS.
Other tidbits of lesser importance include special Callaway badging inside and out, embroidered floor mats and a unique key fob. The base supercharging package starts from just under $23,000.
What say you Oppo...Callway SS for 67 grand or pick up a pre-owned E63 or M5?