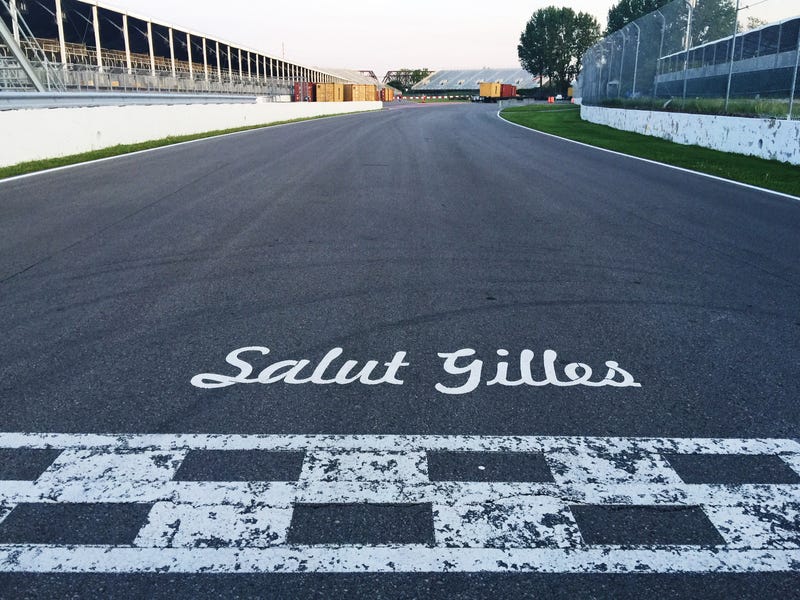 Salut Gilles - The Canadian Grand Prix is coming up from the June 5 -7 and 'things' have begun arriving
Do you see all these containers? Guess what they're filled with.
Here's a closer look at a few
Yes - the garages are in! For those who don't know, teams transport most of their garage by ship. There are no car parts, but rather tools, benches, pretty much the entire garage sans car.
As you can also see they've got all their food prep materials there - WOW there's a lot of food trays for the teams and the paddocks are clean and ready to be setup.
*Little known fact: When the track isn't used for the Grand Prix, it's used primarily by cyclists as a training ground and for racing.
Here's the grid position 1: It was an amazing sensation to pause for a moment and take in the fact that I was standing in a place that next week an F1 car would be starting the race.
I apologize for the quality. I rushed down there right before sunset and there's no stopping on the track for safety reasons (most cyclists are bombing at over 20mph) and the bugs were plentiful (I turned brown from thousands of bugs crushed on me).

If anyone's interested I'll try and slip down there another time before the race to try and snag some more shots. Also, any photo requests of the track are welcome.