If they can't even program their parts catalog properly.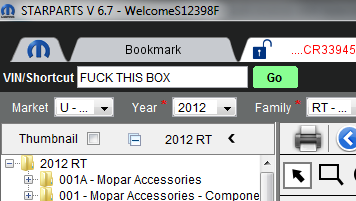 See that little VIN/Shortcut box up there? Well that's Step One in looking up parts for an FCA vehicle. You type the last 8 of a VIN (or the year, model code, and group if you're sexy) in there and hit ENTER or "GO" and it whisks you into the catalog to look up parts based on that VIN.
One slight problem.
YOU HAVE TO KEEP YOUR MOUSE CURSOR HOVERING IN THAT BOX OR IT DOESN'T INPUT WHAT YOU'RE TYPING.
Case in point, I'm on the phone, I get someone's VIN, I click the box and start typing but OH NO, my mouse moved a few MILLIMETERS and now the cursor is OUTSIDE THE BOX and whatever I'm typing goes into no-mans land.
I hate this, I wish they'd fix it, but its been like this for YEARS and no matter how many times I send feedback on it they don't fix it.
Its quite annoying.