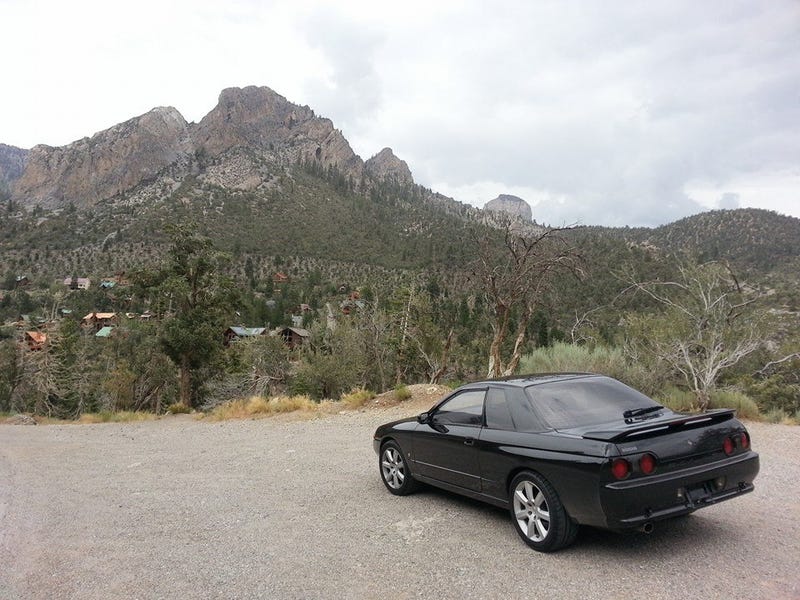 Earlier I made an article about how I imported this car now that i've owned it for over a month i'll give some of my ownership experience. Car, since the picture above, has been registered and received plates.
Update: added a couple of pictures at the end.
Mini Revew
Before I get to any sporty driving regular driving this car is a delight. There is some lag that i'm not used to especially considering my other car is a V8. I used to have a Subaru WRX and off boost it had decent enough torque with this Skyline if you are not in boost you have almost no torque at all. Fortunately it is really short geared so this doesn't turn out to be too annoying. The downside is 80mph on the highway (75mph speed limit) you are at around 3800RPM, stock exhaust is so quiet it's ridiculous and can hardly hear it at WOT. I have a Tomei+Kakimoto turbo back setup I bought from Japan that will be going in when I can get a tune but for now it will remain stock. The stock ~220hp, if it remains as such, is impressive. It feels faster than that number, is it the gearing? Possibly. Transmission feel is exactly how I want it to feel. Rear diff feels like it's working as it should.
Ride quality is a bit firm due to the aftermarket suspension but not oppressively so like it was in my 350Z that I bought used. The seats would be small for fat people or anyone larger than me as even my slender frame is held in tight. Fortunately the steering wheel is fully adjustable so aside from the seats I can imagine most people of any sizes could drive this car.
As far as the electrical my car doesn't have ABS or cruise control however it has digital climate control. The climate control works strange too, it's based on outside temperature so here in Vegas it's always full blast except early in the morning, so it's pretty much useless. In my Subaru it was based on cabin temperature so i dont know how common this is. The radio also doesn't work in the US. Other than that what electricals and gauges are in the car have been solid as expected from 90s/80s Japanese cars that i've owned. Boost gauge is neither in PSI nor BAR but in x100 mm mercury. Only turbo cars i've owned have all been in PSI.
Ive been driving this car to work (30-35 miles 75mph speed limit highway run) about once a week, my intent in buying a 2nd car was in part to keep the miles down on my daily. I only work 4 days a week now due to the weekend schedule so where I put almost 60k miles on a WRX in 2 years that hopefully will not happen with my Mustang.
The Events
I work weekends, it sucks aside from the pay. All local car events are on Friday night or Saturday. Friday you have drag racing and import meets. Saturday you have Cars and Coffee and autocross. I decided to take a day off and have some fun and try and attend as much as I could.
Knowing I was going to do this I bought some tires from Tire Rack. I had some 350Z wheels from when I used to own one of those last 3 years ago and they had the right offset. I bought some Kumho Ecsta XS tires for them per recommendation from Grassroots Motorsports (235/45/17 front 255/40/17 rear).
First thing I did during the week was do a drive up in Mt Charleston. It was a kind of a canyon carving run but not too fast as some people take it. My goal was mostly to see if the car is good to handle long term sporting driving despite it's age before I really bashed it hard at autcross. I was worried about the coolant since when it was flushed there was a lot of corrosion, thermostat may not be in good shape. It did well without any issues, midway through the road was wet from rain and the tires were still surprisingly sticky for a high performance tire. The car is very agile handles probably the best of any car i've owned, previous owner replaced suspension components so it's not riding on 25 year old shocks and this was evident.
Next up was going to Cars and Coffee. Since I learned about it i've been on weekend shifts which has been a few years. It was a neat event with all kinds of cars here, i'm more used to car shows mostly having classic American cars.
Saw one car i've never seen before there next to a Ferrari F12, I believe.
Shelby Daytona, i'm sure it's a replica kit but still cool.
Skyline got a decent amount of attention there and people asking me how I got it, other people there were currently working on importing cars. Most people who wanted to even buy the car from me didn't know they were even legal yet so spread the word. Being that this is a city with 2 nearby Airforce bases there were quite a few military car enthusiast there that had cars overseas waiting on legal date. I am former military myself but never had the chance to be overseas in a country I actually wanted to be in. One guy worked near where I worked and owns two imported classic Minis, one was there which was neat to see don't see too many of those where i'm from.
Autocross
That evening I went to autocross. Registration started at 5:30PM and ended around 6:30 so it was a LATE event. Despite it being late it was still low 100s high 90s and I had first work crew, forgot to bring water... this was a mistake. Skyline put me in modified due to it's not being sold in the US status.
Shared driving with a friend of mine who is a much better driver than me, some people there wanted rides in the car but only one person had the opportunity he was an out of towner from Philly too. My friend posted times similar to what ST* BRZ/FRS cars were getting, mine were a couple of seconds slower. We haven't autocrossed in like 3 years or more so it's been a while, I would like to see what we could do if we went reguarly. I wanted a car like this, lighter RWD, GTS-T because I figured it could be like a more easily modded for power FRS on a used 2nd car budget and it appears I am right. We had fun but the heat was taking its toll, the radiator temp gauge at our final run was near topping out fortunately some helpful people there has a water sprayer to help cool the car down in order to complete the last run. It was still in the low 90s by the point we were running but i'm sure I just need to replace some bits in the cooling system to make sure this doesn't happen again. Car went through about 8 runs total in short order and handled it well aside from that last bit, impressed with the quality of what I got. Handling at its limits were great, better than anything i've owned previously which may not be saying much (350z, WRX, Mustang GT in terms of non appliances) and I can see where this car would be great for drifters but please don't destroy them :).
Autocross at night was hard. My eyes suck so I couldn't see shit but it made for an interesting event, I would recommend it. Despite my lack of vision I hit zero cones but I gave them space because I couldn't see.
Next thing i'll post will probably be what i've done on the car so far, when I put the exhaust on and get the car tuned, as well as fixing the cooling issue. Still waiting on my Power FC controller and Greddy Profec OLED boost controller to arrive from Nengun.
If you have any questions or comments please post them below. This is only my second blog post ever so let me know how I can improve if you want.
Update: Someone said I should have some more pictures. I'm at work when I wrote this so I didn't have many on me.