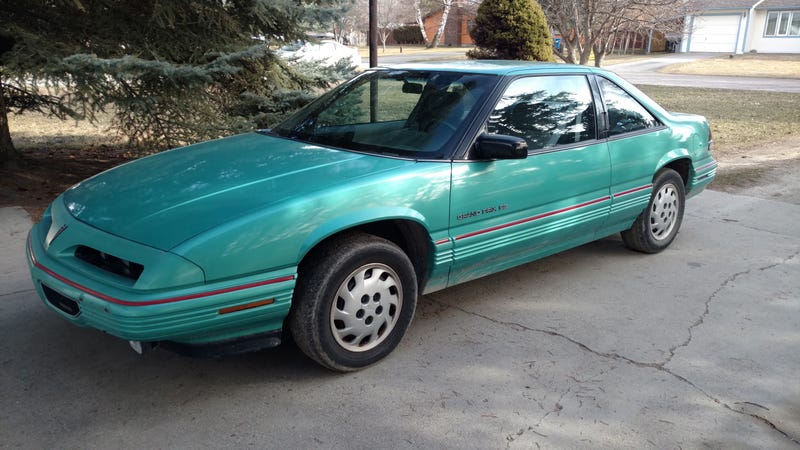 Finally picked up a new (to me) car yesterday. It is a 1991 Pontiac Grand Prix SE Coupe, and it is lovely.

First, the problems, of which there are several but they're all pretty small. The biggest little problem is the oil pressure gauge, which is constantly pegged just over the top of the scale and refuses to move, even after we changed the sender. The low fuel light likes to blink on and off of its own accord, even when there's plenty of gas, you have to slam the driver's door a little for it to close all the way and there's a very small crack in the windshield but it's on the passenger side so I barely notice it. My little cassette aux adapter is also stuck in the tape deck, so I'll have to fish that out somehow.
But then the good things, of which there are many: the power everything (seats, mirrors, locks, etc.) all work fine. The cruise control is excellent. The interior is mostly spotless. Pontiac's ridiculous yet delightful steering wheel buttons all work too, and the stereo is actually very good for a quite cheap 25-year-old American car. The injected 3.1L V6 makes the same 140 hp as my friend's 2014 Corolla S, but actually makes a reasonable 185 torques for a little car like this, so it feels pleasingly quick off the line, and actually gives a little bit of wheelspin when you floor it. The steering is good, if a tad wooden, and the suspension soaks up bumps well, though it's still pretty stiff. All the lights and such work, and the body is pretty much perfect - no dents and only a couple very small scratches that I could find. It also sounds very throaty.
The very best thing, though, was the price to mile ratio. I paid $1150, for which I got a car cover, license plate bracket and spare keys (and the previous owner thankfully kept every single document for it right in the glovebox). The mechanic I bought it from even changed the oil for me on the spot. And it only has 116,000 miles on it, which was a nice surprise, and I plan on putting on many more.