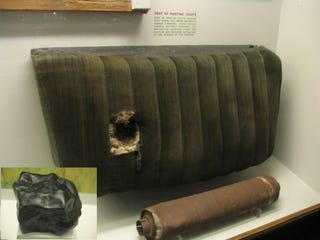 "The Benld Meteorite fell on September 29th, 1938 at 9:00 
AM. The Meteorite is consider a serolite and weighs just 
over four pounds. This was only the second know 
meteorite to hit the state of Illinois and one of the few 
world wide that had actual caused property damage when 
it struck. The first meteorite fell in Tilden, IL.

The Benld Meteorite went through a garage roof and the 
1928 Pontiac Coupe that was parked in the garage of 
Edward McCain. McCains neighbor, Mrs. Carl Crum, was 
standing about fifty feet from the impact and may be the 
individual who came closest to being struck by a 
meteorite in history up to that time. The Meteorite went 
through the roof of the car, the seat, the floorboards 
and struck the muffler of the vehicle bouncing back into 
the seat springs where it was found.

The Benld meteorite, parts of the garage, and car that 
were struck are on display in the field Museum of Natural 
History in Chicago, IL"