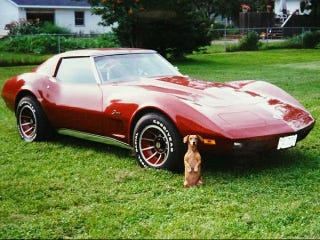 I just spotted this 1974 Corvette on my local craigslist. The seller really likes to have their dog stand on its back legs in front of this car. I'm all like "DAWW LOOK AT THE DOGGIE" which is a good way to distract from the fact that this is a '74 instead of the good C3 years of '68-'72.
The seller isn't satisfied with just one picture of the dog standing in front of the car. Oh no. There are more.
Judging by the color and sharpness of these photos, which look like they were taken on film, I'm going to wager a guess that they are not at all recent.
I wonder how many doggie treats the seller went through to take these pictures.