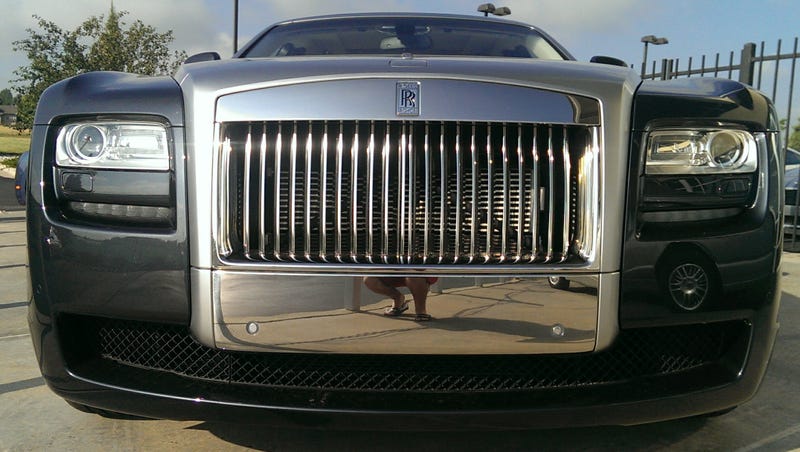 I only managed to get "pictures" of about half the cool cars one my trip. A restored Hudson Hornet, a Ferrari 458, a Dodge Viper, a McLaren 12C, several old Defenders and 911s, a couple GTRs, an Audi S7, an R129 SL600, a G63 AMG, an 80's Supra and a BMW M635CSI are just some of the cars that flashed by before I could grab for my camera.
The word pictures is in quotes because most of these are fairly shitty pictures. They are shitty because, a) my phone's camera is so-so, and b) most of them were taken in some combination of the following conditions; bad light, no light, from a distance, from a bad angle, through glass, with an obstruction, with the target moving, with ME moving, with the camera zoomed, and, for ones I was not prepared for at all and only had a short capture window, with me not actually looking through the viewfinder. Also, some of these cars you may not find interesting, like the Sprint, which is only there for being the only rust-free Sprint in the world. They are, however, labeled for your convenience. With that long disclaimer out of the way, enjoy!
Ferrari 308GTS
Chrysler Crossfire SRT-6
Bentley Continental GTC
2015 Subaru Impreza WRX STI
Toyota Land Cruiser FJ40
Tuned Mazda RX-7 (next to silver F-150)
A pair of unicorn SUVs: Saab 9-7X & Mazda MPV 4x4
BMW 2002
Mitsubishi Lancer Evo 8
BMW Z4, which is noteworthy b/c the vanity plate said "Z4". Brilliant. I also ended up behind a Mazda6 which somehow got the plate "IPMS247" No SR20, but yeah...
1st gen Suzuki Cultus Chevy Sprint
Toyota Land Cruiser FJ40 off-road tour truck
Well-lit truck is well-lit.
Subaru Brat
Nissan Maxima wagon (in Jalopnik brown)
Jaaaa....wait just a fuckin' second.
Mercedes W115
Audi S4
It was on a 30 y/o tour bus, so I guess it's true.
Fiat 124 1600 Coupe
Mercedes 450SLC
Datsun 280Z 2+2
Volvo P1800
Mercedes CLS63 AMG (the good-looking one)
Range Rover Sport Supercharged-I particularly liked this one, but every LR/RR from 1975-2015 is abundant in Denver. I missed getting pictures of a couple old ones.
Blacked-out Tesla Model S- Also abundant
Mercedes SL65 AMG (yeah, V12 Biturbo!)
Porsche 911 Turbo
BMW E28 535i
70's Toyota Camper
Porsche 911 Carrera S Cabriolet
Pontiac Trans Am Mini Cooper
BMW M5
Corvette Stingray- God those lights/pipes are cool
Alright, so I cheated for these last few. They are not spotted in the wild, they were taken at Bentley/Ferrari/Maserati of Denver, who I would like to thank for letting me nose around their back lot without calling the cops or throwing me out. They had a Ferrari 599 Final Edition inside, but alas, no SR20, because reflective glass.
Lotus Evora
Mercedes SLS AMG
Mercedes CL63 AMG
Aston MArtin DBS (& DB9 Volante)
Mercedes SL55 AMG and a selection of Maseratis
Alfa Romeo 164
Bentley Flying Spur
Rolls-Royce Ghost
Bentley Continental GT SuperSports
Hummer H1 Alpha
Ferrari California (it's red)
Gold trim everywhere, gold/white walls, maroon vinyl top, wind deflectors, and a gold hood ornament. The couple driving had already begun to decay, but judging by the speed they were going, they were probably young newlyweds when they set off.
Also, on the drive back. We saw 10 or so Chevy Silverado/GMC Sierra HD pickups, all red or black 2015s, and all wearing camo from the A-pillars forward. A few of them were towing trailers with weights on them. New power train development?