This week we have Radio-Man's 1985 Plymouth Colt - Radio-Active
Welcome to CarDomaning, the activity of searching the abandoned, left-for-dead CarDomain profiles that time forgot for interesting cars, projects, personalities, and images. ….then posting them here.
Last week we featured Allison's HOTT NEON, which taught us that it doesn't matter what you do to your car, a little skin from you and your friends can make it all right.
I can't say for sure what caught my eye with this Colt. Maybe it was the fact that there is still someone with a Plymouth Colt (Mitsubishi Mirage) on the street? Could it be the fact that the owner has posted photos of it as recently as last year? Maybe because it was featured in the May 2009 issue of Popular Communications?
Those alone would make this member's ride special, but that's not what caught my eye. What caught my eye you ask? It was featured in Popular Communications? WTF is Popular Communications?
Antennas. Holy shit, Radio Man has antennas.
I'm sure you're wondering what those antennas are receiving, and want to know how many radio stations he can pick up.
The answer? All of them.
Oh lord...
Is there room for the window cranks to move?
I usually defend HAM radio operators. I'm sure they are aware that there's free long distance now, text, email, etc.. They like to tinker, and it's a hobby. Just like some of us love pushrods, live axles, carburetors, and manual transmissions. We're aware there's something easier, quicker, and more reliable, but we, like these radio guys, like to tinker.
Radio-Man, however, tinkers so much that it hertz.
Yes. that's a printer on top of a subwoofer.
Looking through his gallery, you'll also see just as many radios and gadgets in the back seat, the headliner, and rear parcel shelf. It's as if he was in an accident with an electronics store, and hit. Every. Single. Shelf.
Twice.
All I know, is that there no shortage of methods to contact Radio Man. With shortwave, citizen's band, police scanner, marine band, VHF, transistor, AM, FM, cellular, bluetooth, SMS, MMS, Email, messaging at his fingertips, there's no excuse ladies... you'll just have to be honest with him up front because, "I couldn't get a hold of you" ain't going to cut it.
Plus a bonus. Radio man don't fuck around.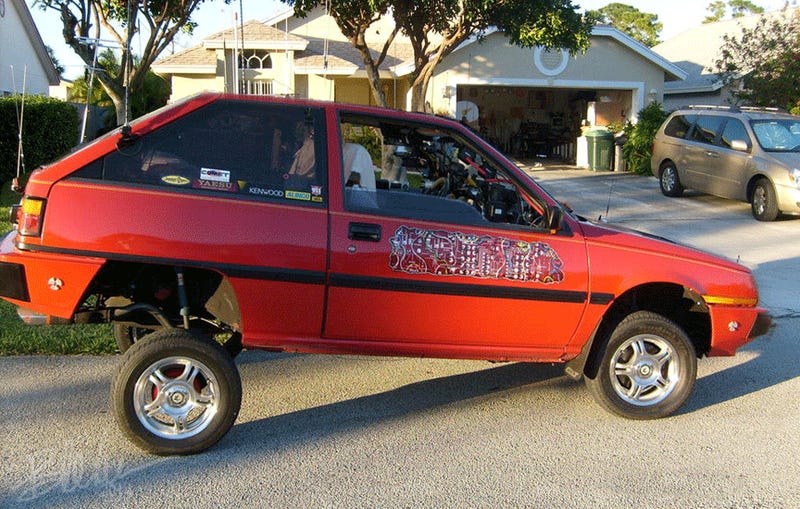 Red rotors, red drums, 10 year old webcams, underglow... you name it, he's got it.