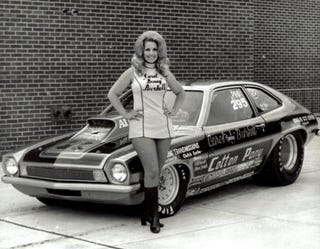 Carol "Bunny" Burkett is one of the pioneering figures and most successful drivers in the history of drag racing.
When Bunny ran her first race—in 1964, at Old Dominion Dragstrip, in Manassas, Virginia—women drag racers were few and far between. Bunny told us that she and her husband Mo Burkett bought a bright red '64 1/2 Mustang on a Thursday and raced it on Friday. She won her very first race and never looked back, quickly emerging as the first truly competitive female drag racer on the east coast. In the late '60s and early '70s, she established herself as one of the most popular drag racers in the country, traveling thousands of miles a year, from Canada to the Carolinas and from Nashville to Maine.
By the mid-'70s, Bunny was successful enough to move up to Funny Cars. In 1986, she was the International Hot Rod Association's [IHRA] Alcohol Funny Car world champion, making her the first (and until 2008 she was the only) woman to win a championship in a Funny Car.
Bunny is certainly "the first lady of Funny Cars," but she won't call herself the first lady of drag racing. That honor, she insists, belongs to Muldowney. By the time Bunny won her championship, in 1986, she said, Muldowney had "already opened the door. The door was not necessarily wide open, but I could slip through it."
From a crash that nearly took her life in 1995 to being diagnosed with cancer twice, Burkett has battled her way through nearly every obstacle possible, but continues to drive and be an inspiration to people across the globe.
"I have died, had breast cancer, a mastectomy, hysterectomy, I have fell and broke my leg, had a hip replacement, had another form of cancer, but every single time all I could think of is getting back in that car," Burkett said. "I had commitments and I had my fans. I mean they just get in a tizzy when I am not out here."
Still, even after all she has accomplished over the course of her incredible career, Bunny doesn't want to be remembered for her accomplishments on the track. "I don't ever think of what I have done as being the first lady or being a lady in the sport. All I want is to be remembered as a good drag racer, a good driver and most of all a good person."