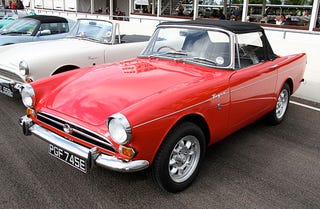 Because who else would think to try and shove a 289 in this thing?!?!
I introduce to you the Sunbeam Tiger.
From Wikipedia: "The Sunbeam Tiger is a high-performance V8 version of the British Rootes Group's Sunbeam Alpine roadster, designed in part by American car designer and racing driver Carroll Shelby and produced from 1964 until 1967. Shelby had carried out a similar V8 conversion on the AC Cobra, and hoped to be offered the contract to produce the Tiger at his facility in America. Rootes decided instead to contract the assembly work to Jensen at West Bromwich in England, and pay Shelby a royalty on every car produced.
Two major versions of the Tiger were built: the Series I (1964–67) was fitted with the 260 cu in (4.3 L) Ford V8; the Series II, of which only 633 were built in the final year of Tiger production, was fitted with the larger Ford 289 cu in (4.7 L) engine. Two prototype and extensively modified versions of the Series I competed in the 1964 24 Hours of Le Mans, but neither completed the race. Rootes also entered the Tiger in European rallies with some success, and for two years it was the American Hot Rod Association's national record holder over a quarter-mile drag strip."
More Here: http://en.wikipedia.org/wiki/Sunbeam_T…
Pretty Friggin Sweet.
Thank God For Carroll Shelby.