This just hit the local Kijiji for $2500 bucks and I really had no idea this automaker existed! So here is a quick history lesson.
Car was made by Rootes Group in Warwickshire, England from 1953 to 1975. The Sunbeam name came from the group who was bought out by Rootes Group (and not your mom's mixer). The original cars had a 2267cc, 4 cylinder engine that was modified over the years to a max horsepower of 97. The original version of the car was even used in Alfred Hitchcock's "To Catch a Thief"!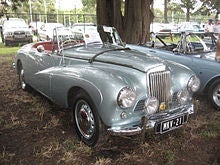 The car went through 4 redesigns until 1968 when Rootes Group was bought out by Chrysler and production was stopped. This car won several rally races from 1955 to 1965 and even won a SCCA Championship driven by Don Sessler.
Here is the link to the car that is for sale in my area.