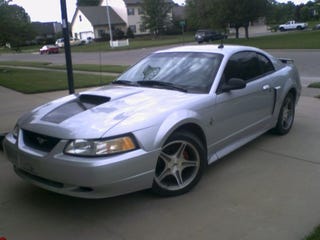 Going through some old photos, I thought I'd share with you guys all the cars I had before I discovered Oppo. It's a long list and I found myself getting surprisingly emotional finding these old photos. I've probably mentioned some of them before, but here are all the photos for everyone. Enjoy.
Pictured above was my 2nd car, a 99 GT. It's a rather ridiculous story of how I got into it, but I consider myself lucky.
Later that was added.
Later came this, 05 Mazda 3. I kept this one for quite a while actually; I moved to Des Moines in this car did a lot of growing in it. Definitely miss this one.
Definitely had the manual. Ironically, I actually wanting the automatic when I was looking for these. I was young.
After moving back to Wichita, I started wrenching a flipping with my dad again. I kept the Mazda and delivering pizzas in it, but bought some more cars. Above is a 75 Camaro with a 350 and 3-speed stick. 53k miles. Bought it out of an estate sale. That was an unbelievable good cruiser.
This here is a 91 Dodge Stealth RT Twin Turbo. Both this an the Camaro were co-bought deals with my dad, split down the middle. The Stealth is a seriously quick car for 91, but an unbelievable pain in the ass to maintain. Hands down, worst reliability next to old Jags.
The natural resting place for the Stealth. The shop.
Eventually, I sold the Mazda and bought this 04 Subaru WRX wagon. I spent a couple months undoing all of the owner's horrible mods and making it tasteful again.
I was doing really well until I plasti-dipped the front to look like an Audi. What the fuck was I thinking?
This is the iconic one I took mudding.
While still delivering pizzas in the Subaru, I kept going.
This was another deal with my dad. 04 maybe Ford Ranger. Only 58k miles
89 I think Nissan pickup. I can't even remember what they call them.
Another Mustang, unsurprisingly. Bought this in Lawrence before seeing a KU basketball game. Allen Fieldhouse is just unreal. Better than WSU's basketball arena.
I had this actually for about 3 weeks. I bought it from my dad's friend then sell for him. At highway speeds, it's terrifying.
After the WRX, I was on a quest to buy something German. After driving to Arkansas to look at a hopeless B5 S4, wasting 12 hours of my driving time and $200 worth of gas, I ended up buying this.
a 2001 BMW 330xi.
After Plasti Dip. Also don't buy black cars in the winter. Ever.
Next was this multi-colored 89 Ford Ranger, with the stick. It wasn't pretty, but it was such a damn good little truck.
While owning the BMW, I found a deal that I just possibly couldn't let go.
This is a 2005 Subaru Legacy GT, with da stick. When I bought it, it had a blown out piston. After enough evenings and weekends, (mostly) my dad and I put it back together.
This was the day I bought it. It had been sitting for three years and was super dirty.
I was very fortunate to later trade the Legacy GT to a kid for this S2000, that despite my best efforts, I still have. The only thing I've had to do to it is change the oil, pay my PDR friend to take some dents out, and buy new back tires.
Along the time, I bought a couple more.
This GTO was a mess when I got it. Among things, the bushings and sleeves in the front control arms were missing so the whole steering system could move around instead of actually turning the car.
Below is 2004 Hyundai Santa Fe. It's boring, that's all you need to know.
Finally for those of you who actually read all the way to the bottom, good for you. Surely this was a boring read. But there's a treat for your determination.
EDIT: Completely forgot about these. They're Saturn SL2's The green one's sold and the white one I keep as my "Insurance Purposes Vehicle." I actually daily the white one now. I think the little Saturn's are a blast to drive.
This car below, is my unicorn, my Eleanor, my 'one that got away.' This is my first car ever. A 95 Teal Mustang. It was a V6 with no power window or locks. It even had an auto. But, I would easily trade my S2000 in on it hands down; That's how much this car meant to me. Sadly, I don't have any photos from when I owned it 5 years ago, but I managed to actually find it again about 2 years ago in Augusta, a small town on the edge of Wichita about 3o miles from me. So, I took bad photos and even snapped a photo and wrote the VIN with the full intention of buying it back someday.
Bought for $1500, this is the car that started it all. This was my first flip. A lot of times I come off very cold about car sentimentality, but this is my one.