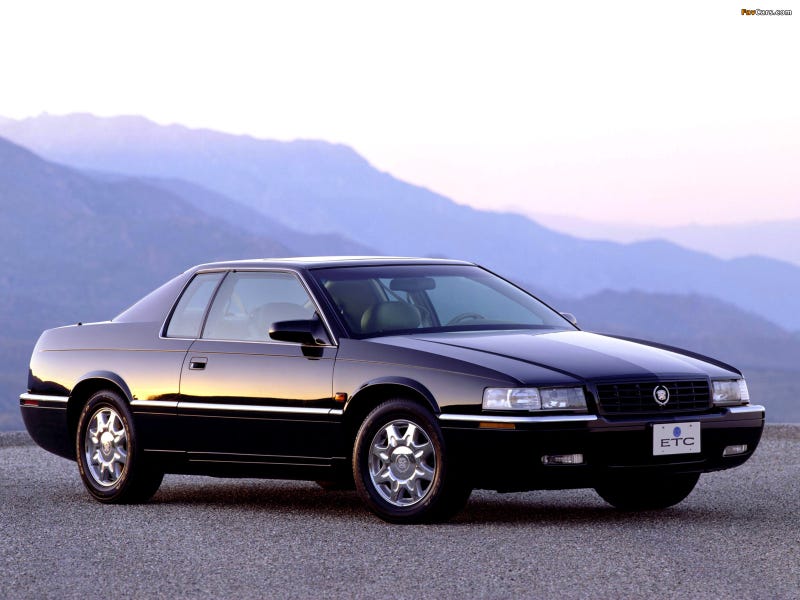 Some cars are beautiful. Others are boring. And a few of them are so strange looking that their questionable aesthetics are part of the car's appeal. The nineties are full of vehicles like that, so that decade will be the focus of this post.
The Eldorado. As if a transverse mounted, front wheel drive V8, wasn't strange enough, this thing is the epitome of rounded edge nineties styling. It'd be straight out of the eighties if the lines had actual corners on them - but it's 1995! Straight edges are unacceptable. Also, the rear side half window looks like it belongs on a pickup truck, leaving acres of negative space between it and the rear glass. I love these. Future classic maybe?
And then there's the Riviera. This thing is just a blob. Every section of the car is bulging outwards like someone drew a normal car, plunged a straw into it, and blew it up until it was ready to burst like a capri sun.
The rear is funny too. Everything is an oval. The light cluster, the exhausts, the badge... it goes on. I do like the interior though. I'm a sucker for trim that extends all the way around the cabin.
Leather. AND ACRES OF PLASTIC WOOD. What else do you want out of life?
Bentley products from the nineties are also disgusting. Just look at this thing. Sure - it's stately and imposing. But it also looks like leftovers from the eighties fridge someone microwaved until they melted a little bit. Then an over sized grille was slapped on, and it went to the showroom.
The interior is funny too. At this point Bentley had used this interior for 15+ years. How imaginative! And totally uninspired. At least the wood is real!
Time to visit the opposite end of the spectrum - the GMC Jimmy. God I hate that name. But just look at it. It's glorious!! The rounded trapezoidal rear glass is the best part. The interior however, is one of the most offensive things I've ever seen, and yes - I have been in one.