Last time I posted an article like this it was about the HB Cosmo. Trying to raise awareness of cars you can import that Americans usually don't know about. Everyone here thinks Skylines, Supras, and names made famous by movies and games. Here's another car that you probably haven't seen unless you watch 80s Jackie Chan movies.
Mitsubishi Lancer 1800 or 2000 EX
In 1981 this was the first car fitted with the famous 4G63T engine and it was used in rally, like later Lancers, it's lightweight like most japanese compacts from its era and it is RWD. These cars were also fitted with the 4G62, a 1.8l turbocharged engine.
Though the 4G63 is a bit different than what you're used to seeing in this US since it is SOHC: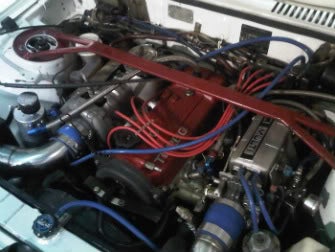 Also having the same TBI that you see in Starions.
The car has boxy styling like a turbo Volvo and is a sedan. Want to import a major RWD turbo sleeper? This might be on the top of the list.
I like the looks of this car quite a bit. It has the same kind of 80s boxy hard edges Mitsubishi styling as the Starion. The underlying tech is the same as the starion pretty much. Same steering, TBI like I said earlier, suspension, etc.
Strangely enough this car is very limited in Japan and a significant number were sold in Europe in left hand drive. From what I understand in Japan they only had the 1800 because 2L turbo cars were banned at the time of introduction.
This car has a cult status overseas however a quick look seems that prices are reasonable, just good examples are rare.