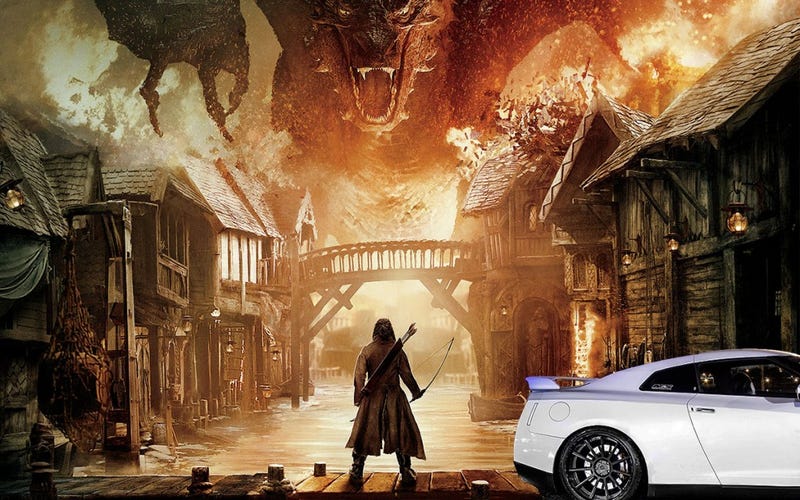 The Hobbit: Battle of the Five Armies is the final installment of The Hobbit series, and undeniably one of the biggest movie releases of 2014. Writer and Director Peter Jackson takes us on an epic fantasy adventure filled with Elves, Dwarves, Orc armies and giant bats. But as automotive enthusiasts, we're most anxious to see what kind of cars they drive down in Middle Earth. That's why we've put together this completely legitimate article of best cars from the film.
In the scene above, we see Bard the Bowman face to face with Smaug, the bone-chilling dragon that invaded the Dwarf Kingdom of Erebor. Luckily Bard has his own reptilian beast, a 545HP Nissan GTR known as Godzilla.
---
In this scene we see Bilbo Baggins beholding the most powerful key fob in Middle Earth. His lust for the GTR is about as healthy as your average hobbit's eating habits and about as sickening as a hairy hobbit clown foot. That being said, we totally get it.
---
In the words of Matt Hardigree, "the Jeep SRT8 has the surprising fury of the Spanish Inquisition and the refined strength of the Desert Fox." So its no surprise that the Dwarf army uses the 2012 edition to tow their mounted spears to battle. With 5,000lbs of towing capacity, the Jeep hardly flinches.
---
Legolas and Tariel are interrupted by a Local Motors Rally Fighter, which is also featured in Transformers 4: Age of Extinction. The Rally Fighter has 20″ of suspension travel and adjustable ride height which makes it well suited for the rocky terrain of Middle Earth.
---
Bard the Bowman ditches his Nissan GTR for a Ducati Monster 1100, which is more agile and fuel efficient for long journeys. Some film critics have poo-poo'd this plot twist for being unrealistic. Nobody ditches a GTR. But keep in mind that Bard is a bit of a fashionista and this particular model is the Diesel edition. No, it doesn't have a diesel engine. It's a design collaboration with Diesel Clothing, a company that specializes in selling oversized sunglasses and watches to rich Elves and Europeans.
---
Mojo Motors is a website where shoppers Follow used cars and trucks to get alerts when dealers drop prices, sell cars and bring similar vehicles into inventory.