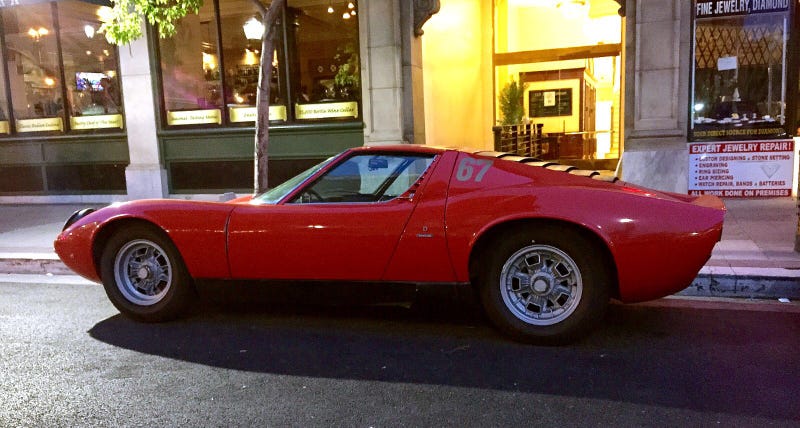 Unicorns do exist. Here, for your consideration, is one of my unicorns: a Lamborghini Miura in the wild, parked on a bustling city street while the lucky owner no doubt noshes on a tasty meal. Now, I have seen Miuras in the past, but they've all been at car events and car shows. So this was certainly a treat to spot this fine example out of context yesterday evening.
What makes this Miura different from the beauty queen contestants I've seen before is that this baby appears to be unrestored! It has grime. It has battle scars. It has torn seats. And it is absolutely perfect.
This particular specimen appears to be a Miura S, judging by the the chrome trim around the headlights and windshield, and by the "Bertone" badge just behind the doors.
Check out that golf ball-sized zonker on that rear quarter panel! There must be a good story there...
Dig those tattered seats and well-worn steering wheel...
And this bad boy was just sitting in between some modern supercars (and a Honda Acura NSX), parked a few blocks away from the roar of the Grand Prix of Long Beach.
Anecdotal bonus: A police officer yelled at me for standing in the middle of the street to get that profile shot above. Thankfully, no citation was issued (but it still would have been worth it).
So, what do you think this "rough around the edges" Lamborghini Miura is worth?