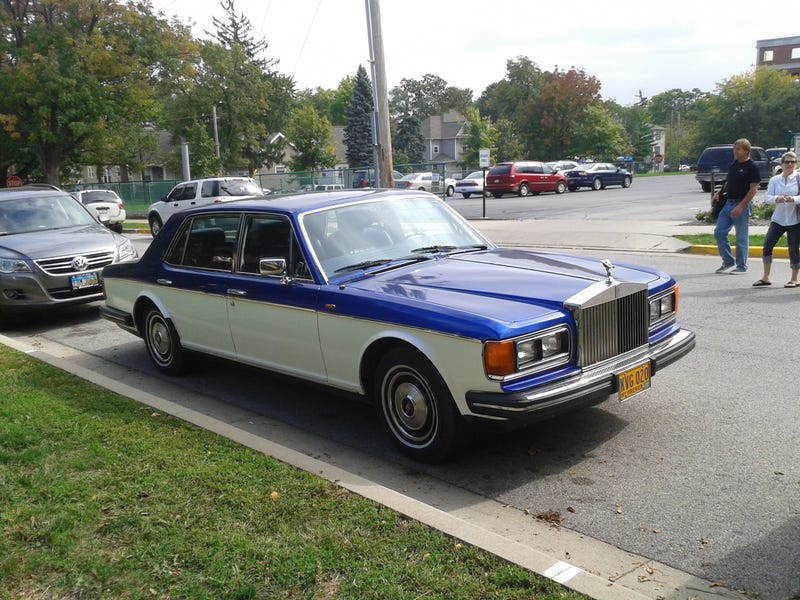 Welcome to the first installment of what will hopefully be a semi-regular series called Cars on Campus, where I bring you, dear Opponauts, the cool, weird, exotic, or otherwise interesting cars found around Purdue University. First up is this 1987 Rolls-Royce Silver Spur.
The camera on my phone doesn't do the colors justice: the royal purple (I know it looks blue, but trust me on this one) is metallic to the point it's almost flaked, reminiscent of the old gasser-style drag cars of the 60s, and sparkles brilliantly in the sunlight. I would've gotten a close-up shot but the owners (that's them coming into frame) were leaving and I didn't want to impose. However, they were extremely nice people, and, seeing my interest in the car, were kind enough to briefly speak with me.
It turns out the Rolls is their in-town runabout, ferrying the husband and wife and their friends to and from coffee and lunch dates on a regular basis, a role it has played since the early 90s when they purchased it from a work buddy of the husband. They've also driven several long road trips in it (that's an Oregon plate on the front bumper), which upon closer inspection was readily apparent; the car was definitely driven, with spots of dullness on the brightwork and wheels, and paint chips in several places on the front fascia. It was, however, still in very good shape for a 25-year-old car, especially one that's been driven as much as the owners claim.
Despite the exterior flaws I could tell by talking to the owners that it was well taken care of; the dude had such infectious passion and excitement in his voice as he spoke about his Silver Spur that it put a smile on my face as well. He and his wife haven't kept this car as a status symbol, they've kept it as a labor of love. Even the 6-and-3/4-liter (not 6.75L you Philistine) V8 sounded strong and healthy as it pulled away, having apparently been carefully maintained for a number of years by skilled and caring hands.
For the money the owners spent every month on maintenance I'm sure they afford something much more modern and exciting, but instead they keep their old, obsolete British luxobarge alive and well, a testament to the unconditional love between cars and the people who care so much for them. So I salute thee, owners of the 1987 Rolls-Royce Silver Spur, and wish you Godspeed, wherever your purple and cream slab of old England may take you .