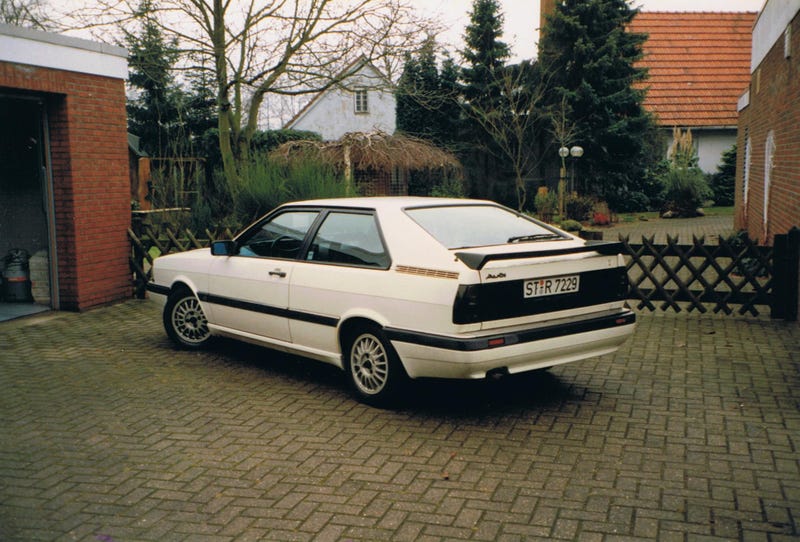 ("Cars that don't get enough Love" is a series similar to "Cars that time forgot", except that instead of obscure cars like the Talbot-Matra Murena I will be writing about cars like the Audi Coupe GT, which aren't forgotten, but underappreciated or ignored by the majority of car enthusiasts.)
Almost every car enthusiast knows the legend of the Audi Ur Quattro, the turbo inline 5 cylinder monster piloted by Walter Roehrl (Roehrl with it anyone?) which dominated Group B rally with the help of its innovative "Quattro" all wheel drive system. With its boxy fender flares and aggressive stance, it looked like people expected an 80's rally homologation car to look (and sound). Even though the rally car was a massive success for Audi, the road going version sold rather slowly (only 664 cars over three years) due to its price of 35,000 US dollars. For comparison a 1984 Porsche 911 carried a base price of 31,000 dollars.
This is where the Ur Quattro's little brother came in. The Audi Coupe GT was aimed a little more down-market than the Ur Quattro. In order to put it within reach of the masses, Audi had to cut costs. Instead of the turbo 5 cylinder coupled to the Quattro all-wheel drive, the Coupe GT received a naturally aspirated 5 cylinder engine powering *gasps* the front wheels. To further distinguish it from its more powerful brother the aggressive box flares were tossed in favor of a sleeker and more subdued look.

The first iteration of the Audi coupe GT came to US shores in 1981 and featured a 100hp 2,144cc 5 cylinder.
Overall I must say it hasn't aged as gracefully as the face lifted version which arrived in the autumn of 1984. This version received a large wrap-around bumper and a slightly sloped radiator grill, but the biggest change was the engine. Instead of the 100hp 5 cylinder the pre-facelift Coupe GT received, this version got new 2.2 and 2.3 (1987 US only) engines, which increased power to 136hp (110hp for US catalyzed engines) and 136 hp for the catalyzed 2.3 US only engine. American Coupe GTs all came with manually removable sunroofs in car color which could be stored in a special bracket under the trunk lid. The Coupe GT had a unique trunk opening mechanism; the trunk could only be opened by opening the driver's door which gave access to a concealed lever. Another awesome (optional) feature that the face lifted Coupe GT received was the orange 80s esque digital dashboard which is probably one of the coolest dashboards ever made.
trunk release lever
sunroof storage brackets
For the face lifted models Audi also made Quattro an option, creating the Audi Coupe Quattro. Unfortunately this version wasn't sold in the United States. However, its cousin the Audi 4000 was available in Quattro guise. Eventually in 1990 the B3 based Audi Coupe Quattro made it to US shores, but it lost the awesome squarish look of the previous B2 based cars.
The Audi Coupe GT may not seem like a very Jalop car with its low horsepower rating and wrong wheel drive layout, but much like mk1 and mk2 GTIs, it felt very natural and harmonious, never giving the driver the sense of being underpowered. Unlike the mk1 and mk2, the Coupe GT was very refined and luxurious. Everything just works together perfectly to create a very balanced sport coupe. Some people even consider it the front wheel drive equivalent of the e30. If you are still not convinced, the Audi Coupe GT got first place in this Car and Driver comparison against cars like the Toyota Supra, Merkur XR4Ti, Chevrolet Camaro Berlinetta, Ford Mustang SVO, Chrysler Laser, Mitsubishi Starion and Nissan 300zx. They even went as far as to call it a natural athlete and crown it the best sport coupe of 1985.
The Audi Coupe GT is one of my favorite cars (which explains the bias), it is one of the last boxy Audis before they became smooth wind tunnel optimized bubbles. I would have probably never known that this car existed, if my Dad hadn't owned one in his early twenties. The white Coupe GT in the pictures was his. It left the factory with the optional Fichtel & Sachs sport suspension, which is slightly lower than stock. Also, take notice that European Coupe GTs had tinted tail lights whereas US version did not. My guess is that they couldn't get them certified, but maybe someone with more knowledge on this can chime in. These cars have become increasingly rare as rust ate them up. So far I have only spotted a single one in the wild.