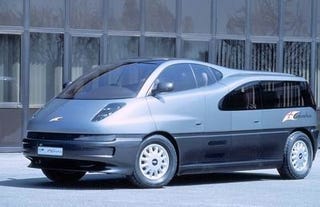 BMW donated a 300BHP V12 to Ital Design in 1992 which was MID-Mounted in this beast. This was supposed to celebrate the 500th anniversary of Columbus' trip to America. The idea was supposedly to do a people carrier/sports car/ RV.

IT'S GIGANTIC:
19 Feet, 6 Inches long (6 metres), 7 Feet (2.2 metres) wide and over 6 Feet, 6 Inches (2 metres) high!


It had four wheel drive, four-wheel steer, and 20 inch wheels.
The drivers seat is situated in the middle, and sits on a different level than the rest of the vehicle. There could be up to 8 seats on the second level (in three rows).




To surmise: It was designed by Italians. like a Ferrari; it has a V12 from BMW, like a McLaren F1; it's in the middle, like a proper supercar; it's got a central seating position, like a McLaren F1; it's got four-wheel steer, like a Porsche 959; it's got four-wheel drive, like a Lamborghini/Audi/etc.; and it can seat 9 in comfort. Why aren't all americans driving this instead of the Grand Caravans of the world? Other than the price, and the fact that it's the only one in the world of course.

I wrote this article myself, YAY!

Have some more pictures: