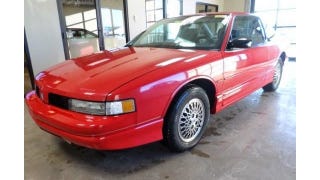 To celebrate Pi-day, I scoured the internet for cars costing $3,141.59 and came within $3.59 of the target with this American as apple pie Oldsmobile Custlass Supreme coupe.
Next year (3-14-15) is going to be a huge year for the Pi-ists around the world, at least for some of them. Pi adherents fall into two major buckets, the Pi-integers and the Pi-rounders. Pi-integers believe that the big millenial Pi-year celebration should be done on 3-14-15 while the Pi-rounders believe it should be done on 3-14-16. The Pi-rounders are in the minority, but just be careful of your surroundings next Pi day because certain members of the Pi-rounders belong to a fractional cell of Al Qaeda, called Al Chimedes and are not known to fool a round. Anyway, celebrate Pi-day this year with this 1991 Oldsmobile Cutlass Supreme Coupe offered for $3,138 in Plainfield, IN via autotrader.com.
This Cutlass Supreme Coupe leaves us with $3.59 left from our Pi-priced budget, and has four perfectly round wheels. This was the 5th and final generation for the Cutlass Supreme and it was moved from the earlier A/G-body rear-drive setup and into the W-body front-drive setup shared with Lumina, Regal and Grand Prix. This final iteration of the Cutlass Supreme lasted 9 years before it was canceled for good in 1997.
This example is in surprisingly good cosmetic shape for 160k miles on the chassis, it has either been lightly restored and thoroughly cleaned by the current seller or always kept clean. The lower end Cutlass was powered by a Tech-4, but this one has the upgraded V6. The LQ1 is a 3.4 liter V6 that puts out 200 horsepower from its twin dual head cam setup. It is a cool engine with four camshafts and multi-point fuel injection from the era when almost everything from GM was using a single cam and throttle body injection. The LQ1 was even mated to a 5-speed manual gearbox in some of the W-body cars, but this Pi day special has a slushbox.
Originally posted as $3,141.59: π-day: 1991 Oldsmobile Cutlass Supreme on Daily Turismo.