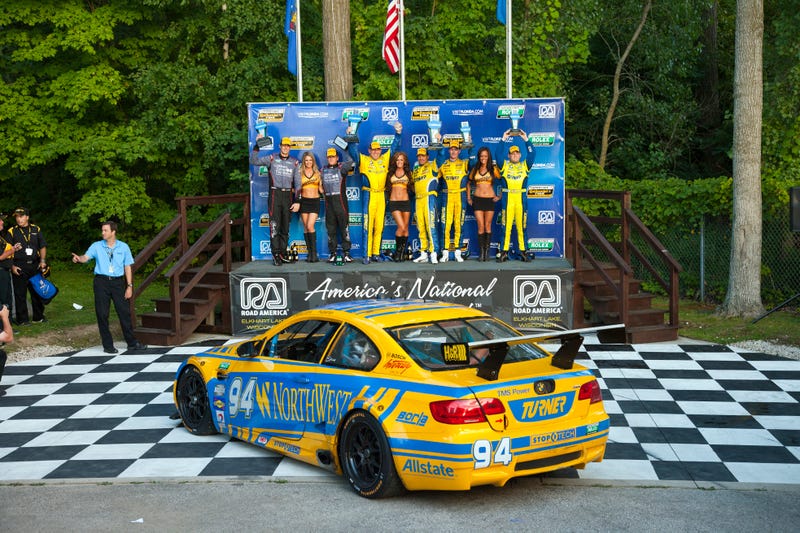 Suffice it to say, this was a good weekend; one that got better as it went along. The CTSCC car took a knock only 16 laps into the 150 minute race and went into a wall, ending our day in the #96 car far too early.
But we qualified 2nd and 8th for the GT race and had high expectations, given our podium last year at Road America. The team and drivers Bill Auberlen and Paul Dalla Lana didn't disappoint. We nailed the fuel strategy and hit fast lap of the race for GT's on lap 50 at 2:10.242. Road America is a long, fast track at just over four miles and we lapped at 111.89mph for our fastest lap average speed.
The #93 car driven by Michael Marsal dropped back a few spots after being hit early on, but ran clean and fast to turn over the car to Max Martin. Max pushed through the field all the way up to a 3rd place finish.
Let's also take a moment and just look at how gorgeous Road America is as a venue.
This was definitely a race where strategy paid off. After several battles the No. 94 of Bill Auberlen took the lead from the No.61 Ferrari, only to give it up ten minutes later to pit under caution for what seemed like a risky call. With other teams also needing a splash and go, and 20 minutes remaining, the fuel levels were low but managed to pass the #73 Porsche in Turn 5 for the lead and hold onto it until the checkered flag waved.
Just after crossing the line, the #94 ran out of gas and had to be pushed the rest of the way around by Martin to the podium.
We are 4th in points for the Rolex GT Team Championship. With three races remaining in the season, including Kansas Speedway coming up this weekend, you can bet we are looking to taste some more sweet champagne soon.
Follow us on Twitter and Facebook!

www.TurnerMotorsport.com