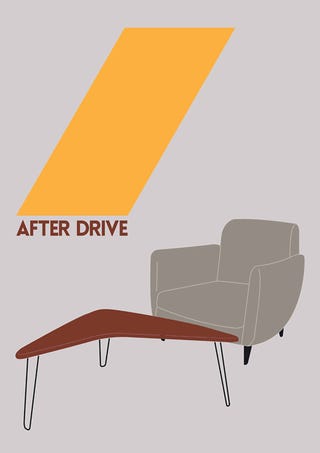 As everyone probably doesn't know, I am the guy behind the "Lancia x Top Gear" prints (that Patrick shared) and the "Car Silhouettes" that were shown on Jalopnik.
For my next piece I wanted to celebrate DRIVE. I believe that /DRIVE is one of the best things to happen for automotive enthusiasts in the last few years. They are currently in their 8th season and have provided a platform to celebrate the culture of cars and to bring audiences closer to automobiles. This has been achieved by going to races, factories, studios, and by allowing presenters to provide thought (and comment) provoking commentary on automotive products.
To celebrate this and as a way of saying thank you I made a project that highlights each of the shows under the /DRIVE network in print format. I have tried to capture the essence and theme of each show in a series of illustrations, as shown below. (I think the Jalopnik one is extra special and contains the names of a few Jalops).
You can view my website here
PS - Ive just spent a year freelancing but want to join a studio/company, so please get in touch
After Drive:
Based on the furniture used in the show and how after a drive you relax.

Big Muscle:
Based on a supercharger, a component used in achieving big horsepower and a common setup on the cars feature.

Chris Harris on Cars:
Based on the driving style of Chris (sideways and out of frame), the fact he is mostly on a track, and the Ferrari F40 - a car that Chris says is the reason he loves cars.
Clean:
Based on the reflections in a cars paintwork after it has been detailed and cleaned.
Drive Apart:
Based on a classic motorcycle helmet.

Driven:
Based on a steering wheel, the common denominator among all the cars driven on the show.

Driver's Eye:
Based on the typical view a racing driver sees when in a race.

Inside:
Based on the machinery used to transport vehicles across the production line when they are being built.
Jalopnik:
Based on the common toolbox of a car enthusiast, which is who Jalopnik mostly caters for (as well as the general public). If you look closely the tools are "stamped" with the initials of the writers and some of the more prominent commentators.

Live and Let Drive:
Based on the romanticism of the journey.

Ring Tested:
Based on the map view of the famous track, with a tick to say "pass" or "ring tested".

Road Testament:
Based on discussions about cars by the car community and general public (in this case representing a Porsche 911 - a car that generates a lot of discussion).
Shakedown:
Based on the pitboard present at every racing fixture.

Tuned:
Based on the difference between the original and tuned cars.
————————————————————————————-
Hope you guys like it.
The Jalops shown are all the writers (their initials) and:
$kaycog
Pessimippoptamus
Takuro Spirit Trans Camry
RazorGP
For Sweden
Victorious Secret
Spiegel
(if anyone wants to be removed, message me)
UPDATE: Thanks to Matt its now JF approved
Salman