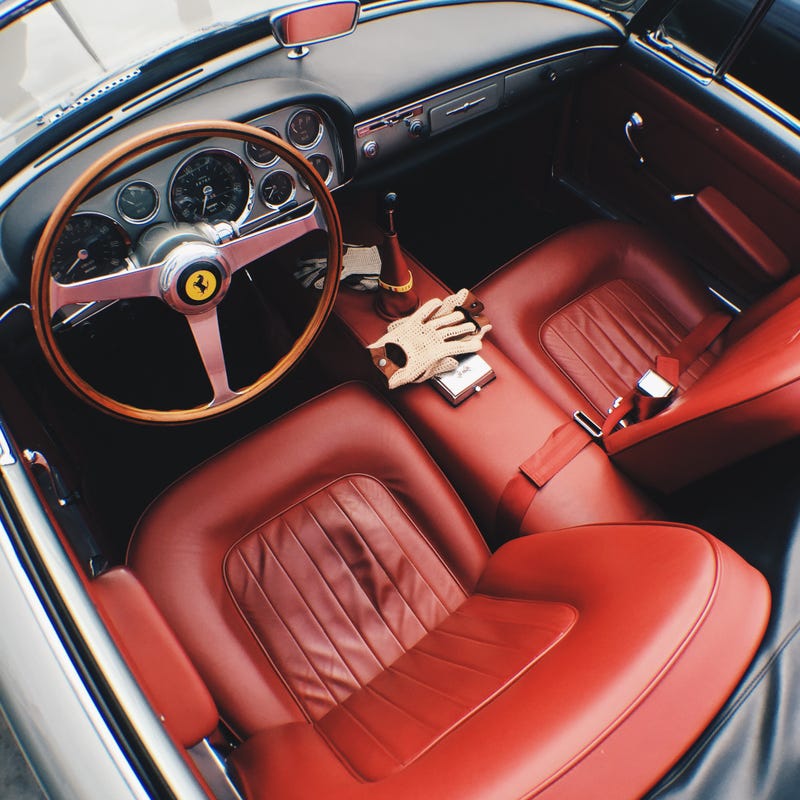 I'm going to keep the words to a minimum here as a photo of a Ferrari is far more interesting than my rambling prose. I found out about this event late yesterday afternoon, rung up a friend to see if he wanted to go with and early this morning we headed up to the Petersen Automotive Museum. The museum it self is currently closed for renovations but the parking deck is very much open for cruise in events such as this. Organized by Ferrari Club of America, the cruise in takes place annually on Enzo Ferrari's birthday and brings out a wide variety of the fine Italian exotics as well as a couple Mondials.
The skies of Los Angeles were cloudy this morning which meant nice diffused light for taking pictures of the cars. There are a few that I wish I'd gotten to photograph on their own parked away from the other vehicles but the guys were on their way out so I snagged some video clips. I did get to stick my head inside a beautiful Maserati 3500 GTi that smelled of rich mahogany and leather bound books, so that was cool. Other favorites included a Midnight Blue 550 Maranello, very clean 328 GTS and a gorgeous 250 GT Lusso. There were also a bunch of new Ferrari's but those don't really do anything for me because no gated shifter, no auto chubby.
Tomorrow is Luftgekühlt 2 which is taking even closer to where I live, so it's really shaping up to be one of those weekends when I'm really happy I reside in Southern California. If you're going to be headed out tomorrow keep an eye out for me, I'll be the best dressed guy on the premises. Hope ya'll enjoy the photos and video.
Cheers!