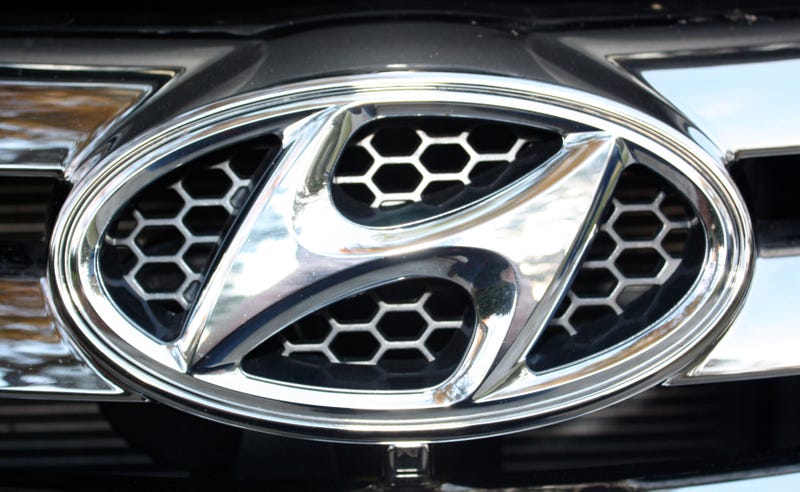 It's easy to see this as a stylized "H" that stands for "Hyundai." That's what it is afterall! However, I think Hyundai is on track to turn this image around. As an enthusiast that supports this brand and all they are working for, I want to assist in that change of perception.
The first thing Hyundai will need to do is keep people from seeing the letter "H." Instead, we need to see this emblem as an abstract representation of ideas. A symbol. Now the story behind the badge is that it's of two people shaking hands, which is a great starting point for turning the badge into a symbol.
There are plenty of conclusions you can draw, and portraits of deep meanings that would make a grown man cry at the annual corporate barbecue. However, taking the arbitrary time to romanticize a symbol doesn't work when the company hasn't be consistent to those values since day one. It only facilitates the transformation of Hyundai's own associate's view points of the badge but not the views of anyone off the payroll. It's great to let people know the marketing story regardless because it now allows them to look at the badge again and flip it between being an image of an "H" and that of a "mutual agreement." That, to me, is where marketing needs to focus. To Hyundai's credit, all the talk of human centered design needs to be turned into the company ethos and made known constantly.
Right now you're looking at the italicized Honda logo a bit differently. Notice that when you saw the image, you saw the handshake and that positive image, then I made fun of it and you mind went back to all negativity you know from well over a decade and will continue to hold throughout your lifetime. This is me hopefully proving that it isn't enough to change the minds of people because we don't have only one opinion on topics. It will take years of consistently proving that the products and company stand by the symbol and philosophies they market before the world outside of the badge begins to see it as an abstract image. People don't ever forget, they simply find enough merit to ignore.
*Hyundai, you will need Toyota or Porsche levels of merit to be blessed with intentional ignorance from consumers.*
Changing Perspectives
The best translation for the word "hyundai" is as the word "modern." We would all agree that modernity wasn't something we could associate to Hyundai. Until this decade, when the first iteration of the fluidic sculpture design language, their products were impressions of the best parts of past models from other manufacturers designed to be an astounding "decent" instead of "exceptional." Currently, through my eyes, the products depict a company focused on where they and their consumers will be in the future instead of where they came from. I think Hyundai has recently done a great job of keeping the "modernity" aspect of their name.
With or Without Heritage
Despite what some would say, there is an advantage in not having a true heritage. However, that advantage only comes when you are NOT trying to be known as an automaker. There are no worries of making a proper successor to some model. There are no issues of the brand "losing it's way." There is no need to put off the launch of a product until it coincides with an anniversary and everyone is positive that a 1-2-3 finish at Le Mans is possible. Nope, none of that. If the product is ready to go, it gets launched. This is an advantage Tesla has and why we focus so much on new start ups rather than the brands we know. The automotive brands that will have the easiest time being viewed as a technology company are the ones that don't have a century's worth of heritage dragging behind them.
The logo above is for Hyundai's upcoming performance arm, Brand N. Here's the interesting thing after bringing up being viewed as an automotive company or a technology company, to be a seen as a technology company, not having heritage helps immensely. To be viewed as a legitimate automaker, heritage is immensely important. The best way to build automotive heritage is through consistently making competitive products and, more importantly, showing the performance prowess of your associates and projects. In the automotive world, performance IS technology. Automakers can't be solely automotive companies anymore. Tesla, Apple, and Google can't be just technology companies with vehicles for sell. Companies need to be both, they need to be companies focused on automotive technology. This means that Hyundai will have the world to see that performance badge as a stylized "N" first. Then, Hyundai needs to present the badge as a symbol, an abstract shape that denotes partnership between their Namyang R&D Center and Nurburgring focused testing including the "490 laps" standard.
The Brand N Performance Badge
Much like the Hyundai logo, they give you some silly image that the "N" symbolizes the corners of a race track. Albert Biermann, former VP of Engineering for BMW's M performance brand, translates the connection of the badge and the character of the future models to depict, "a predictable acceleration value, a stable cornering without deviation from the record line, and a powerful linear acceleration when exiting the last chicane." Yeah, consumers will be thinking those qualities every time they see that letter N slapped on an Elantra instead of, "their cutting off a piece of the M badges to save on production costs."
Joking aside, much like Cadillac's V division or the Lexus F brand, it will take about two complete generations of the N models to truly impact the perception of Hyundai's character. The hope is that everything the N models do will translate into the regular brand and that the eventual consumer view of the Hyundai badge will shift between the following:
A big H meaning Hyundai.

A handshake between the company and the consumer promising to provide products that are focused on being an asset to their lifestyles rather than a frustration.

A big N representing their performance brand.

A symbol of racing and performance that depicts the amount of time and effort that goes into the research and development of models between Namyang and the Nurburgring.

A reminder that Hyundai is focused on modernity and moving forward into the future with you.
All together, within that badge, Hyundai has now made an agreement and is promising to give us performance and technology that will make our lives easier and not hold us back from evolving our lifestyles to be as staid, exciting, or luxurious as we want. The badge is the brand growing right alongside its consumers.
New thinking, new possibilities. Let's see what you can do, Hyundai.