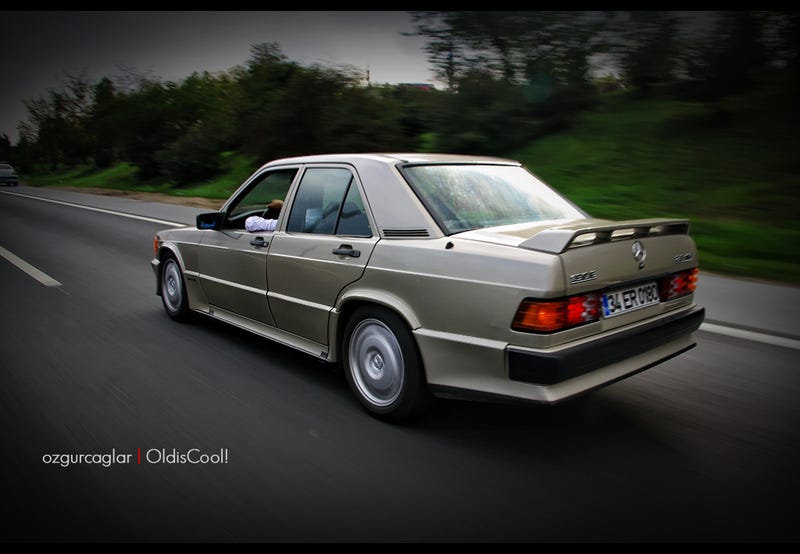 Finding a cheap, easy to maintain commuter car can be difficult. but fortunately for you I have already done all the work. For the majority of my search I limited myself to 80's European cars due to availability, reliability, ease of maintenance and interest factors. Also, as you will notice below, most of the cars chosen are RWD and available with manuals. Of the time period older Mercedes and BMW's may not have the reputation for reliability as there Japanese counterparts, but personally I find them much more interesting. The "Fizz Factor" can be the most important factor in buying a cheap used car, because buying cheap doesn't have to mean buying stale bread.
BMW E30 - The E30 is the baseline for comparison on all of the cars in this time period, they can be solid runners, parts are abundant and they are very popular. These can be found in the ball of lint and a penny - 5k range 
Mercedes 190E- These cars are rarer than the E30 and a personal favorite. They can be just as reliable as the E30 but are more interesting, especially the 190e Cosworth which can offer E30 M3 performance for 1/3 the price and twice the cool factor. These can be found for double cheeseburger money to around 11k for a top notch Cossie.
(Pictured Above)
Alfa 75/ Milano- Rarest of the lot but by far the most interesting. Not at all reliable and if you buy cheap you get cheaper. They are the best looking of the bunch and its a bloody alfa. Also the performance with a properly maintained 3.0l should top most of the cars in the range, when its running that is.  Plus its a bloody alfa, did I say that already…  Buy this car.... "Because Transaxle". These can be had for anything from a back room handy - 10k but the cheaper you go the more of the car will be left on the side of the road as you trailer it home. 
Volvo 240- The stereotypical Swedish tank, this car will run basically forever but the  fizz factor of this car depends on you taste and wether or not you get the wagon. This is probably the cheapest runner you can get. These can be had for between a paperclip and 4k
Alfa GTV6-  Most of what can be said about this car can be said about the Milano/75 except its better looking, its a coupe, its quicker and just as cheap… as cheap as Alfas can be. Buy because transaxle/Alfa.
Mercedes 300TD- This is bigger than most of the other cars but it is more of a tank than the Volvo, just as interesting as the Alfas, and only slightly more expensive to buy. The motor, if maintained, will outlive you, and if the body is in good shape you will look classier than anything here. Can be had for anything between 1k-9k 
Ford Crown Vic / Country Squire-  This is a personal favorite becuase it was my first car . This car is 80's  Merica' summed up in a car. You can land a helicopter on the hood, you can get it with a 351 v8, The country squire had excellent Faux wood trim, and this car could be driven across the country and it would be as comfortable as if  you were sitting in your own living room. This car is also very cheap, a runner can be had for a six pack and nip of wild turkey. Rust free, Only used on sunday versions can be had for less than 5k 
Subaru Impreza- A car that needs no introduction. The oldest iteration of this car is personally the best looking and harks back to the days of Colin McRae and my first experiences with rallying. These can be fairly reliable and If the right 2.5RS is found they can also be very interesting and very fun. living only a couple states over from Vermont means most of the good ones have been gobbled up, but unmolested versions can be had for between 1k-4k
This list is far from complete. The are a huge range of cars that can be had for less than 5 thousand dollars and be an interesting daily commuter. And the direction that you can go in is largely dependent on taste, availability and how much you want to spend on maintenance.