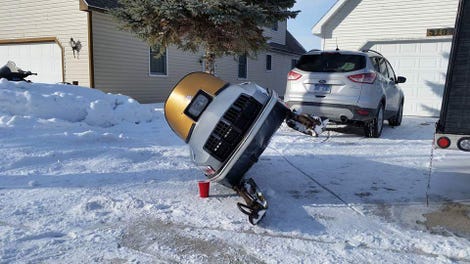 Last year's event was a huge success with 90% of the sleds completing the entire challenge still running. A TNT 440 seized a piston on the second pass of the drag race and a '69 Polaris Mustang broke a track cleat during the catwalk competition.
Top Speed: '94 Ski Doo 583 - 93ish MPH
Drag Race: '89 Indy 500
Longest Catwalk: '69 Polaris Mustang
Best Looking: '79 Arctic Cat Panther 5000 (P-40 Warhawk Livery)
Best Exhaust: '71 Mercury Lightning (503 Rotax w/ custom pipe)
Most Reliable: '72 Massey Ferguson Ski-Whiz 500SST
Most Sponsored: '96 Polaris XLT 650

With that said, it's on again this year and we have twice as many relics going!
I finally put together a video from last year's event with some of the highlights, which can be viewed here.
And here's a few shots from last years event to wet the appetite.
This year's event is already shaping up to be a good one with almost double the sleds signed up to compete for ultimate bragging rights. The guys have been scouring Craigslist, Facebook and Ebay for old school muscle sleds under $300. Ski's, traction improvements, seats, handle bars, paint, exhaust and CC's are all open, but the sled has to be Pre-'85 and maintain a stock suspension, number of carbs and stock secondary. All mods must fit in sled purchase price.
A few of us went up to the A-1 Show N Swap a month ago and scored deals on some clean Arctic Cats that will add to the competition. One El Tigre 500 F/A and a 440 Panther Fanner. Both are in great condition considering their age and at under $300 each should provide plenty of smiles per dollar.

The two '79 Panthers from last year will make a return visit with new seals and new paint and accessories as will the TNT 440 with a new motor and hopefully more than two races in it. There will be at least four Yamaha's including a '83 540 SRV, '80 440 Exciter and two Enticer 340s. A '80 Scorpion Sting, '79 Pantera F/A 500 and some mystery sleds will also be added. In total there will be about 18 contestants with sleds by the time the event hits in February.
If you know a good snow dance, let me know because we're going to need it!