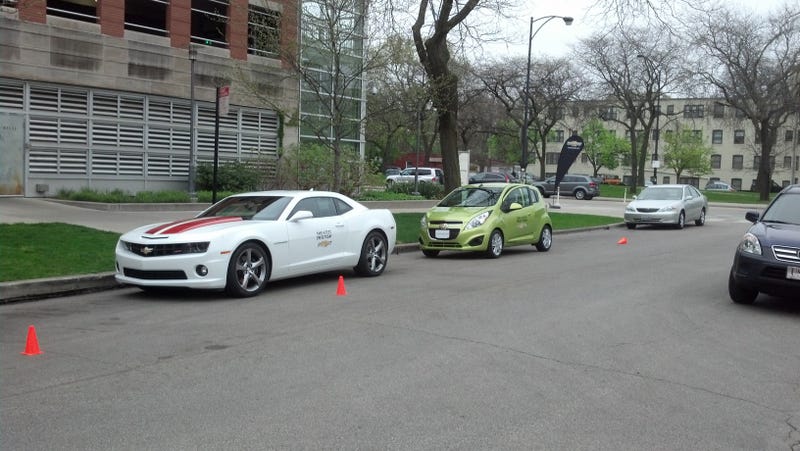 There's something wrong with Chevrolet's new lineup. The more expensive the cars get, the worse they become. I went to a Chevy Test drive event, and tested their entire lineup to find out why. Comprehensive Reviews after the break.
(Full Disclosure: Chevy wanted me to drive the new lineup so bad, they paid me $10 in a gift card, provided free sandwiches, donated $10 to a charity, and made me stand in the cold for ten minutes between rides)
From the Volt to the Cruze, I was amazed that the 'nicer' the car I was stepping into, the more it felt like a useless blob, or worse, a waste of money. But when I went down in price? Things got tighter, cleaner, better. Things made more sense, I felt like I was actually driving again. I'm not just talking about fuel efficiency or list prices, it's the chintzy interiors, unresponsive motors, terrible gauge placements, and lack of quality and value that kept showing up in all of their vehicles, the higher up the tier list I got.
Let's go for a ride and figure out how this could happen, on a car-by-car basis. Unfortunately, there were no 2014 models (so no Impala!) to test, and no manuals. By the time they got there, they were done filming for the day, so none of my drives got to be put on film. This is unfortunate, since I am sure that you all would love to see the Camaro ride, even if Chevrolet would not.
I'll start with the star of the show:
Chevy Spark 1LT
1.2l, LL0
84 HP @6400 RPM, 83 Ft/lbs @6400 RPM
2400lbs
MSRP: $13,785
I'll admit it. I wanted to drive the Camaro. That was when I thought that the line would be too long to get multiple rides, but it wasn't, so while I waited I took a trip in this little green hatchback.
In their 'Find New Roads Anthem', this was the car marketed as the stereotypical shopaholic vehicle, and this is completely false. The fact that the automatic felt this good, but it has a manual available on all models is great. This car was not really built for that character though.
The first thing they mentioned when I got into the car was that it has a touch screen and bluetooth. I laughed, and the poor lady looked at me in confusion. After a quick apology I explained that I had figured that was what their 'big selling point' was going to be on the vehicle.
When I used to do most of my most enthusiastic driving, I had a friend with a 2002 Honda Civic that would fill it with girls, girls, and girls every time he went out. They thought his car was cute and always had something to laugh and talk about, and seeing them get pressed together in the back seat when he took a corner too sharp was an aesthetic he never got bored with.
This car was built for him.
Power and Handling
0-30 felt quick. I couldn't believe that the tiny thing only had 83 Horsepower, because the right gear ratios made it want to rev forever. Because the motor gets consistent torque all the way up the rev range. I took a corner (according to the representative) enthusiastically, and was surprised just how composed the car felt. The rear didn't feel too loose like I was used to in most cars, and this is probably due to the back tires being six feet from my seat.

The brakes were weak, cheap, and unfeeling, but are also drums in the rear, according to the representatives. This is the one major chink in the car's tiny, tiny armor. However, the steering is barely assisted, so while it is light and lively, actually has great feel to it.
They say that driving a slow car quickly feels better than driving a fast car slowly. The Spark embodies this, and driving around and over potholes actually felt pretty good. Now, I'm not a fan of front wheel drive vehicles... but the first thing I noticed is that this reminded me of the same tightness and surprisingly agile steering that one gets in an early 2000s Civic. That is a good thing.
The auto transmission wasn't too bad though. I mean, it was horrible. But it felt good because of that. With only 83 horses to play with, when the transmission jerks into second and you get a little jolt, it keeps you awake. That's more than I can say for the other cars I tested. Would I pay more for a smoother transmission? Honestly, probably not. That's what it's like to be in this car.
Interior
This is where things get… weird. The Spark has such awkward proportions as a car, this may stem from my inexperience with small hatchbacks, but I for a car with such a short nose I could not touch the bottom of the windshield. But what was filling that space was the small speakers, because they had decided to put the speakers facing the windshield instead of in the doors. I don't think it was because they needed to package airbags in the doors, since they were fairly spartan. I didn't understand it, since everything I was hearing was actually being reflected off of the windshield.

The steering wheel felt good. It was an extremely simple, round design and rolled in the hands well. But in the center was this awful plastic, the sort of matte fake plastic that reminded me of a detergent bottle. This sort of plastic, to me, was worse than bare metal. It tells me that I just paid extra money (if I were buying the car!) to get something that, in two months, is going to be covered in scratches and fingerprints. I can forgive it in this base model spark though. For now. But I recommend getting the fake plasti-leather polymer interior and skip on the color-coordinated cheese.
Remember when people were conflicted about that gauge cluster within the Sonic and Spark? Yeah, get over it. It's great.
It stands out oddly with its bright blue LED look, but honestly, even though the blue conflicts with the ugly green plastic (which you shouldn't get) it strikes the perfect medium between 'high visibility' and 'not distracting'. This is 'iPhone' oriented designing done well. It has a compact, clean interface that tells us exactly what we need to know, and nothing extra, without taking up space. It doesn't look too cheap. This is easily the best part about the interior, especially the way it emphasizes the tachometer. Because that's what you want to be looking at.
Experience
I would never buy this car because it doesn't fit any of my tastes, but I would recommend it to anyone and everyone who wanted a tiny, cheap, new hatch. The representative for the car was nice, but didn't really know much about it. We had a trendy, artsy girl in the trendy artsy car. But I don't think Chevy realized just how fun it was to just flick the car around and not care at all about what you look like behind the wheel, color-coordination aside.

Chevy Sonic Sedan LT
1.8l Ecotec Family 1 LUW Engine
135 HP @6300 RPM, 125 Ft/lbs @3800 RPM
2720lbs curb weight (est.)
MSRP: $18,335
Now I got to try the Aveo. I mean 'Sonic'. I'll admit, I always sort of scoffed at these cars as being deceptive. They felt like a dressed up economy car, and well, they sort of are. This is the safe choice. This is the Corolla that isn't too old, isn't too new, isn't too expensive, isn't too fast, and isn't too slow. It's highway performance is probably a little better than the Spark thanks to the added torque, but I was a few miles from a highway when I tested the car.
King of the Blobs has nothing to fear though, the Sonic comes in feeling considerably cheaper. Sure, it is only $2000 less than the Corolla, but it seems to feel $5000 worse.
I truly cannot fathom, outside of the additional trunk space, why someone would buy this over the spark. Don't get me wrong, it's more powerful (though you can't feel it) and better looking, but it isn't $6000 more powerful or better looking. You could get a Miata for the price difference.
Power and Handling
I blame the transmission, which is much smoother but with (what I feel) are lower ratios than the Spark. Point is, with that extra weight, I feel no difference between the speeds of the two cars, except that this one isn't nearly as responsive. I'm not sure if it's the Ecotec engine or not, but it wasn't quite the same. But I do concede, the engine was still impressive. Just not as good as the Spark's little 1.2 liter mill.
Around a corner, the rear end just wobbles after the front, completely unlike the flat stability of the Spark. Granted, this could be due to the fact that the rear is considerably farther away, but it was not 'slow car driven fast'. It was slow car driven slow, even at the same speed. The thing just doesn't like to do anything exciting.
The brakes were numb, and a lot more grabby than necessary, there was no progressive feel. It was like flipping an 'off/on' switch. I feel that a set of good pads, a nice brake pressure, or maybe even a caliper upgrade could make this car a lot more fun to drive. However, that just put you over the Corolla's price tag.
But of course, by then you could have bought a Spark, and two Miatas.
Interior
Take a spark. Give it more leg room. Done.

The gauges and My Touch system were identical, but this one forgave the ugly plastic in favor of a black cloth-like material. It felt worlds better, and made the car look considerably more mature. Knowing that this same interior is on the Spark only confirms the uselessness of those plastic panels.
However, along with that, came a black, shiny panel over the worst place possible. The door buttons. In just a single day of driving, it was so covered with fingerprints that anyone who was seriously test driving this car should be disgusted. I don't understand it. The color-coordinated plastic was at least bright enough you couldn't see the cumulative grime of your driving experience every time you needed to hit a knob. It's two steps forward, one step back with the Sonic.
Experience
"I always think of it because it reminds me of Sonic the Hedgehog".

Actual quote by a representative. Being the least exciting car there (and that's saying something!) it was desperately trying to be the reasonable, but still sporty and young choice. This particular representative for the Sonic was lively, but really seemed to take to heart my complaints about the interior and my thoughts on the gauge cluster. But she had great integrity, when asked a question she didn't know, she completely admitted it. No PR junk or canned responses. You'll have to wait for the Camaro for that.
I tested the Sonic Turbo Hatch next, and I'm not sure I would opt for the Sedan. Neither of them are as good to drive as the Mighty Mouse Spark, and I find it unfortunate that this is their go-to car for young buyers, just because double digit horsepower sounds lame.
But it was accommodating and acceptable. I felt that if you were someone with a neurotic compulsion to not step on any toes, at the expense of your own enjoyment or personal wealth, than this is a good choice.
Even if it does cost nearly 5 Miatas.
Chevy Sonic RS Turbo Hatchback
1.4l Ecotec Turbo LUJ Engine, LT Automatic
138 HP @4900 RPM, 148 Ft/lbs @2500 RPM
2821lbs curb weight (est.)
MSRP from $22,280
Dear Chevy:
Why? That is my only question.
It is truly no faster or more exciting than the sedan, the turbo is nonexistent, the ride is a little more bumpy, but outside of a slightly flatter and sorted cornering feel it truly feels like they just took the trunk away, slapped some red badges on it, and then asked you to pay more.
Power and Handling
Not all turbos were made equal, and there are two distinct types. There is the high-pressure, noisy wastegate, high lag "wooshing" turbos of many Japanese 90s sports cars and crazy monster project cars, and then, there is the lower-boost, high efficiency don't-know-its-even-there that act with no lag from a conservative configuration.

This is the latter, and it is the worst form of the latter. I know that turbo sounds cool, but this looks to me to be a thinly veiled attempt to get the Sonic into sub-10 second 0-60 times and nothing else. Fact of the matter is, the response when you are just driving around normally is even worse than the naturally aspirated engine. You do feel the extra torque, but that's marred by the fact that you can't get more than a millisecond of it before the power drops out of the ideal range. I just don't see the point.
I got to test Chevy's push-button manual system they have as an option on this car as well, and quite frankly it was a bit of a silly joke. The gear shift was shaped in a vague pistol-grip shape, but knobby enough you could grab it like a ball-grip. But these buttons were in the most awkward place possible, on the driver's side of the shifter, making it actually feel worthless to try and shift with. For the love of Fangio, get the manual, it's cheaper and the push-button system is no excuse to get the auto.
There was a bit more road feel than the sedan, but not as much as the Spark. While I felt like the car had a lot more to give than the Spark, but I didn't really feel like it wanted to give it up at all. It was content staying in the low revs, making the same droning exhaust note and reminding you that you just paid 4000$ for 3 more horsepower.
Thankfully, it has probably the best brakes of the group, with 4 discs instead of the rear drums found on the lower end versions. You can actually notice the difference in the brakes, and it's best one of the lower-priced group.
Interior
It's Spark 3.0 now, and this time we have some glitzy (disguised as metal, clearly plastic) pedals that both stand out as odd, and then look horrible when you realize how fake the plastic is. They couldn't just put normal pedals in, especially since in order to see them you have to look right past the silver plastic console that is covered in more of that gross silver material.

The seats, however, were great. They were comfortable, though a larger person may be cramped, and felt great to the touch. The little embossed "RS" on the seats and red stitching added to that, and I can genuinely say that it has the best interior of the 3 compacts.
But, as always, two steps backwards and one step forwards here. The steering wheel was flattened and made thicker, and there is no real comfortable way to hold it. I know some people like steering wheels with a flat base, but I couldn't stand it. The handholds would make holding the wheel at the sides impossible if your hands were large, and holding it at the bottom awkward for hands of any size. There's just not enough usable surface area on the shape.
Experience
Remember the Chevy Cobalt SS? I do.

I remember when I called bullshit on a friend who said he knew a guy with a 300 horsepower turbocharged version. Then, I learned to use Wikipedia.
Fuel economy demands aside, the Spark RS Turbo seems like the sort of car a young buyer would get because his parents want him in a safe American car and he wanted a Civic Si. So he gets this because it says turbo and by the time he's graduating college or in his second or third job, it's a bit of a shame spot that put a dent in his wallet that he sort of wished he had just saved for tuition and living expenses. This car should drive like the Spark, only faster, It doesn't.
I really don't understand the appeal of the Sonic. A little higher up and you get a Cruze, and a little lower down as you get a Spark, both of which are vastly superior cars. It's not as good of a mode of transportation as other cars in its price range, and more importantly, it isn't as good at being sporty as cars far cheaper than it.
I do see one way it could succeed though, and the answer lies in the Cobalt. Back in the mid-2000s, Chevrolet dealerships had an upgrade program that provided warranty-covered upgrades to the Cobalt SS Supercharged, with "stage" kits upgrading it to an impressive 260 horsepower if you tossed the coin for it. The Cobalt SS Turbo got a Stage 1 kit to 280 horsepower. Now, the Sonic RS doesn't need (and couldn't handle in its current form) 280 horsepower. But some form of dealership upgrades would give this car a reason to exist, as sort of entry-level tuner car. It's cheap enough that they have some wiggle room before you get into Camaro V6 territory.
Chevy Volt
1.4l EcoTec Family 0 LUU Engine + Electric Motor
87 HP @5600 RPM, 96 ft/lbs @4000 RPM
+ 149HP, 273 ft/lbs
3781 lbs curb weight (est.)
MSRP from $39,145 - $7500 Federal Tax Deduction
Standing in line, I was very surprised to see that there were more individuals wanting to drive the Volt than the Camaro. The comments afterward were, universally , "It's so smooth!" This, after my experience, I would roughly translate into "I don't feel anything!" Whether or not that's a bad thing though, is up for contention.
When you compare a Chevy Volt, you compare it to every other hybrid not made by Chevrolet. But I have never driven an electric car before, so I'm going to compare it to every car I could buy instead, and I think it's relatively reasonable. My biggest complaints are matters of opinion, not necessarily quality.
The car is a myriad of deceptions, from the weight to the interior, but it is the best kind of deception, like the slaughterhouse and the steakhouse. The Volt is a nice, thick, tasty piece of car meat, and it doesn't want you to know about the archaic mechanical components like wheels and roads that it takes to get you somewhere.
So I was handed the key to a car which requires no actual use of a key at any point to start the car, as if to hide the fact that you still, indeed, have a key nonetheless.
Power and Handling
This car feels like it weighs about 800 lbs less than it really does. The gas engine, by now, I was quite familiar with, it's the same basic 4-Cylinder found in the Cruze and the Sonic sedan, with a few displacement and output changes for added fuel economy.

The brakes were surreal, and not in a good way. Despite actually having some stopping power, the cutting in of the regenerative braking system makes the pedal seem to have no real impact on the actual braking force of the car. Ignorance is bliss, but if I had to know, in a split second, how to get this car to slow down and avoid a wreck, I would be scared out of my mind that I wouldn't be able to predict how it would react. My peace of mind would be much better off blissfully driving with no knowledge of the brakes whatsoever.
The best aspect is the gliding suspension. It is extraordinarily smooth, though there are no hints of performance capability. I drove over a few potholes to see how it responded, and the vehicle ate them up at civilian speeds with no problem. I could see the comatose driver of this car having their passenger point and go "Hey! You just went over a pothole!" To which our ubiquitous driver would respond after a yawn, and perhaps a raised eyebrow:
"Really? I couldn't tell."
Steering is perhaps the worst aspect of the car. It was light, extraordinarily light, and felt like it was entirely electric steering, a steer-by-wire system, with no feedback to the actual road. This too, bothers me, because I am too paranoid to feel that I need to hunt to find out what steering ratio is. I do believe it is (according to the representative) still actually connected to a steering mechanism.
Most of this can be forgiven, the Volt is not intended to be a high feedback car. However, if they want to market this vehicle to technophiles, they have to realize that most people who love technology also love to know how it works. Once you've memorized the brochure, there's no way to understand more about the car. You are just left with a soma-like feeling like you are completely out of control, but others have decided that its okay.
Interior
The center console is to the Volt as eyebrows are to Groucho Marx. It's big. It's shiny. It's silly. I have never sat in a car with a dash so heavily dominated by this massive thing. I understand that the batteries need to fit some of that space, the windshield needs to be heavily raked for aerodynamics, but the resulting proportions are about the most awkward thing I've ever sat in. The car made me feel tiny, but with no added leg room.

The worst part was the plastic. The volt costs over three times that of the Spark. The plastic paneling used on the inside is identical, just a different color. The buttons were nonsensical and haphazardly placed, and squircles dominated the shapes.
Underneath the wheel the bottom of the dash extends so far down that if I only have inches of room to move my legs up and down over the pedals. I cannot fathom just how much equipment would be necessary for them to fill that dash so full, the only thing I could think of were airbags.
Continuing the trend of driving in bliss, the two most obvious parts the driver will see are two massive corner airbags set on top of the dash. The front corner pillars they are attached to are thick, with very little visibility.
The best bonus though? It didn't feel pretentious. It felt like a normal, if a little placating, car, that just had an awkward interior. If it were both ugly and self-entitled, then we might have a problem.
Here's looking at you, Prius.
Experience
The representative for this car was absolutely wonderful. The minute I sat in, I pointed at the console and said "I don't like that." His response was "I think it looks terrible." I did a double take and a look of sheer adoration came over my face. This guy was extremely knowledgeable, and even took me around the back of the car to show me the charger and how it worked.

Yeah? That guy? He's awesome.
I didn't like driving the car, I didn't like the interior or the exterior, but overall I can say that this car is certainly livable. It's problems, outside of a few things, were mostly due to opinion. That is something I can abide by.
What surprised me most was not what I found wrong with the car, but what I did not. When driving, I felt none of the self-entitlement or idiocy of the stereotype. I think the Volt has problems as a car, but it's mature enough and there are certainly worse vehicles out there for the money.
Chevy Cruze 2LT (RS Package)
1.4l EcoTec Turbo LUJ Engine
138 HP @4900 RPM, 148 ft/lbs @2500 RPM
3093 lbs curb weight (est.)
MSRP from $17,135 - (~$21,000 as tested)
(Thanks to reader SonorousSpeedJoe, this is not the 1LT, but the 2LT model Cruze)
The reason I specify the tested price of this car is because I want to emphasize how much a used Miata improves the vehicle. The 1LT, and similarly priced Eco, must be the sweet spot of the line. The Rally Sport package is only for appearance sake, and I don't think the car needs it. I like the look of the Cruze, and I think it is the best 'average' choice for a commuter sedan in their lineup. This car should give the Sonic sedan an existential crisis.
This car felt like it was the most well-put-together of all of the vehicles, including the Camaro. It had the stiff feel of a car that has the bolts tightened down, and makes me surprised that this car doesn't reach the $25,000 price mark. It really is a car that feels more expensive than it really is, and it is the only one that does that.
Power and Handling
With the same engine as the RS Turbo Sonic, but more weight to push, the Cruze emphasized just how pedestrian and non-sporting this engine really is. It wasn't very revvy and was happiest at low throttle, plugging along around 30. Pulling the added bulk of the Cruze didn't really hold the motor back thanks to the high low end torque, but it doesn't have that glimmer of potential sportiness that the RS Turbo Sonic had. There's no suggestion that you would gain any enjoyment from the spirited use of an occasionally full throttle.

The steering was a little heavier than the other smaller cars, with a wider ratio. This was a little unpleasant and I didn't get the precision in the Spark.
The transmission was the same as in the Sonic RS Turbo, I believe, and had the manual button-shift auto feature. It was still a joke, and something I cannot fathom being worth to the consumer whatever premium it added to the final price.
The brakes were grabby and enthusiastic, but not particularly good. I wondered if they were the same brakes as on the RS Turbo, but trying to stop more weight, because that's what it felt like.
The car corners lazily, but without much body roll, and the suspension is probably the best of all of the non-Camaro vehicles there. It was just as comfortable as the Volt, and took the potholes well.
Interior
This car comes with the best interior of all of the vehicles, though I did like the Sonic RS Turbo seats better. For once I didn't feel locked down or that the objects of the dash and console took up more space than necessary. There was none of the plastic that had plagued the other cars, and the leather steering wheel felt great.
It was what I would expect out of the car, nothing more, nothing less. I can't imagine the higher trim levels (Eco aside) being much better to sit in, and it is a genuine improvement over the Sonic and Spark. The speakers were in the right places and the dash didn't look too obtrusive.
I missed the gauge pod on the Sonic, but the Cruze's similarly-blue dials and chrome trim was very just as good, even if it seemed to take up more space.
Experience
The representative made a half-hearted attempted to stress to me how important OnStar was in this car. I chuckled.

Overall though, this was the only car that I felt gave me my value for my money. I emphasized to the representative that the small details that set this car apart from the Sonic, such as the firmer door mechanisms, well designed interior, and proper steering wheel screamed "Quality". There is a reason why the best-selling phones (Droid RAZR, iPhone 5) are made of Kevlar, anodized aluminum, and Corning Gorilla Glass. It's not just for durability. I felt as if Chevrolet had decided to deliberately screw up the Sonic's interior and build quality to get people to buy the Cruze.
Which they should.
Chevy Camaro 2SS
6.2L L99 V8
400 HP 6000 RPM w/Cylinder Deactivation
3860 lbs curb weight (est.)
MSRP from $27,135 - (~$36,135 as tested)
The Chevrolet Camaro has new direct injection thanks to DOHC dual cams, the best aerodynamics so you get the most speed in the draft lines. It has an engine placed where virtually every engine since the dawn of man has been, which gives it a better overall power-to-weight ratio than a Ferrari 358 which has an unconventional engine position, since the engine is the heaviest part of the car. It has BREMBO BRAKES, the best in the business, and a sport-tuned suspension that makes the steering wheel feel heavy. It gets 24mpg, which is unprecedented for a 400 horsepower V8. There is no such thing as Zeta Architecture, this thing is 100% American. It gets full power at redline, which is way higher and more sophisticated than an Audi RS6 that gets its power only at 5000 RPM, which is the Audi's redline.
This is what the representative told me. Seriously, I can't make this stuff up.
No Magnetic Ride Control, no Manual (or Tapshift), and one of the worst driving experiences I've ever had. But I did learn while writing this that if you search "Boy Racer Camaro" on Google Images, you end up with pictures of Mustangs.
Very clever, Chevy.
Power and Handling
Being able to say "I have 400 horsepower" and having 400 horsepower are entirely different things. Jumping on the throttle is less exciting than the Volt. The automatic transmission seems to be designed to keep the car from giving you the sense of usable power until you nearly slam the pedal, and then it jerkily gives you a little life. By then you've alerted everyone nearby that you're an absolute idiot.
Steering is heavier than I would like, but its not because of 'sport tuned suspension' as the representative claimed. All in all it made the car appear heavier than it was. Yes, that's possible. The primary feeling in all of the controls is weight. Everything is so heavy, and not heavy like machinery, but heavy like an old couch or waterbed.
The one saving grace, the brakes, were great. No complaints, and I could tell that they really wanted to actually try things out, and didn't feel at home just living on the street. I would expect that, though, they are "Brembo, the best in the business".
I'm willing to guess that the 1998 Mustang is worse than the 2010 Mustang..
The 2010 Camaro is worse than the 1998 Mustang to drive. It is worse than a Spark to throttle and turn in. It is the worst car in Chevrolet's lineup, and the most expensive. I can say that with absolute certainty.
Interior
I've driven a 2010 Camaro SS before, also automatic, and I can say that 2013 car is no better, maybe worse. The heads-up display is still annoying and the steering wheel feels like the Cruze wheel. The saddest part about that is how much price difference they had. The RS Turbo had better seats. This one didn't have the nicer interior, it had the same ugly plastic that the other vehicles had.

You know, the same awful cheap plastic that covered the Spark.
Which costs less than a third the price of the Camaro.
Homage is no excuse for making some of the worst gauges I have used. The important dials, water temp and such, are all in front of the gear shift. Which means I have to look directly away from the road, negating the entire point of the heads-up display, to view them. I know it's a throwback to the 1967 Camaro gauges, but this is a modern car, and between the silly font and worthless placement, it's like the entire dash was just thrown together haphazardly. What makes this a crime is that it probably cost them more to design and place these fancy, barely useful gauges there than to just use pleasant ones that still work.
If I could image what it would be like to be inside a Patton Tank (but with a worse interior), this is it. When I first entered the car, I remarked how poor the visibility was. The representative looked down, forlornly, and remarked "Yeah, everyone knocks that." Thank goodness he didn't try to tell me that poor visibility improves the handling thanks to the 4-wheel spring axle technology.
Experience:
I love Muscle Cars. I hate front wheel drive. I like V8s. Chevrolet has left me so disappointed.
I don't understand why they didn't bite the bullet and bring in the Magnetic Ride Control. Here they are, showcasing a fast car to a school with an awesome physics program, and they decide to leave the absolute best technology at the dealership. It's just as good as the Volt, in those terms. Just being able to say "We have a system here that adjusts a Ferrofluid with electrical signals at the millisecond level" is enough to impress and excite many people who know what that means. It shows that the car company is advanced, impressive, and isn't the aging derelict bureaucracy that the government bailed out several times.
Except that it is, and the Camaro painfully reminds me of that.
Final Thoughts:
The Chevrolet Spark is better to drive than the Chevrolet Camaro. The doubled mass, longer gear ratios, less responsive engine, and the doubled mass all contribute to that. They're trying to sell most of their mid-range cars (like the sonic) on their flash and style, but quite frankly their build quality and understanding of consumer needs sucks. I have a smartphone that is worlds better than the MyTouch system, just let me use that instead of your space-inefficient interface. I don't want a company that tries to make me pay for a system I don't need, when they can't build a better one than what I already have, but Chevrolet has decided for us that we all need their touch screen interface and plastic body panels.
I get the feeling that they look at what young buyers spend their money on, and see only toys, and ignore the value of a well-designed piece of technology that we place on them.
Chevrolet wants to build brand recognition. They want people to go back to their cars after buying them, and continue buying them. But if I bought a Chevrolet Cruze, and five years later was in the market for another new car, perhaps now in the $35000 range, I would notice all too much that the higher up their line I went, the worse the cars got. I wonder if it has to do with the number of designers and conflicting opinions regarding the more expensive cars.
Chevrolet is doing much better than they were even 8 years ago, in my opinion, but they haven't arrived at a place where I feel they are trying their best. They don't make 'Chevrolet' cars, there is no distinctly American and General Motors about their vehicles. They're cars, some of which are bad. I say this because many of my criticisms are universal, poor decisions that seem due to driver-designer disconnect or sheer bureaucracy.
I think the Spark works because there is, simply, less things for them to make mistakes on. That is why it is the best, because you do get something of value.
In summation, you want to get a Spark now. You want to get a Diesel Manual Cruze in the near future. You want to test an Impala or SS later. You want to get a Camaro never.