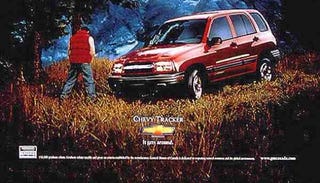 When GM launched the redesigned, Canadian-built Chevrolet Tracker in 1999, the Campbell-Ewald penned tagline they chose for the occasion was an unmitigated disaster of naïveté. Chevy Tracker: It Gets Around.
Which, in the parlance of the times, meant "It's a dirty slut." As this was doubtless a naïvely unintended interpretation of the tagline, one wonders why they chose to use an ad with an actor that appears from behind to be looking down with his hands in the right position to undo his belt. In full view of the Tracker's eager face.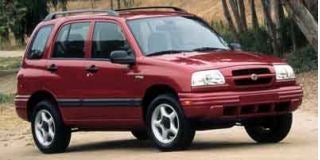 What's more, the Tracker was pimped out to several different companies under different aliases. It was originally a Suzuki design, sold in the US as the Vitara before Chevy got their rebadged Tracker version. Its predecessor was badged as a GEO. Mazda even offered the model in select markets with its own badge, as the Proceed Levante.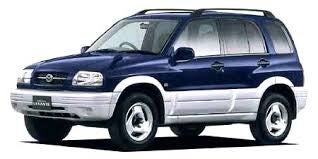 And even with its purer, more direct intended meaning, the tagline is terrible. "It Gets Around" is literally the most basic thing any vehicle is supposed to do. A moped gets around, too. We all laughed when Toyota launched the Yaris with the "It's a Car!" catchphrase, but it was used ironically, so we were supposed to. GM used "It Gets Around" seriously and with zero self-awareness.
Perhaps they've since realized what they'd done. I searched the Youtubes and Googles far and wide for the TV version of this ad campaign, or for another print example with this tagline, but it seems the photo I posted at the top is all the visual evidence of said campaign still available online. Perhaps GM had it scrubbed from the internet. Perhaps so few people cared about the Tracker that almost no one bothered to save any ads or upload any commercials of it. Either way, #Winning!
I did find a short blurb from a 1999 copy of AdWeek about the contest GM ran along with the Tracker's ad campaign.

The contest involved in the Tracker's "It Has Chlamyd... err... It Gets Around" launch slogan involved people signing up to win an example if they could guess where in the world the Tracker was based on its commercial footage.
Anyone with half a sense of trolling could have sent in a photo of a Vitara with the words, "At a Suzuki dealer." Or better yet, a photo with a piece of toilet paper stuck to the back autographed by George Michael.
Can you think of a car-related tagline that's worse?